Jump to recipe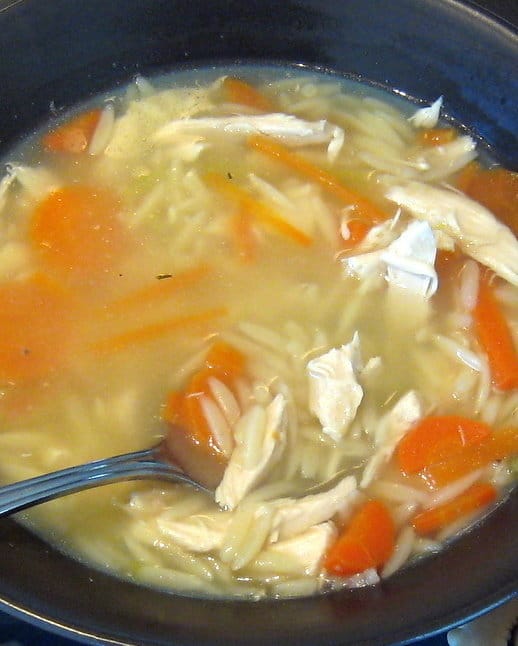 Old Fashioned Chicken Soup

Ingredients
1 tablespoon virgin olive oil
1 small white onion, finely diced
2 stalks celery, cut on the diagonal into ¼" slices
2 medium carrots, peeled and sliced on the diagonal into ¼" slices
2 14 oz cans chicken broth
3 cups water
2 chicken breast halves (10 to 12 ounces) – boneless
2 chicken bouillon cubes (optional)
Salt and freshly-ground black pepper to taste
Instructions
Prepare the vegetables.
Place the oil in a heavy four-quart saucepan and heat over medium heat.
Add the onion and cook about 5 minutes – until tender and lightly browned (stir occasionally).
Reduce the heat to low, add the chicken, cover, and simmer until the chicken loses its pink color throughout – and carrots and celery are tender (do not overcook). (This should take approximately 8 to 10 minutes.)
Remove the chicken with tongs, place on a plate, and cool enough to handle.
Taste the soup for flavor – add bouillon cubes if the flavor needs a little extra richness .
Add salt and pepper to taste.
Remove and discard the skin and shred the chicken. If pieces are too long, cut in half.
Return the shredded chicken to the soup and simmer until heated through.
Photo: fritish / CC BY-NC-SA