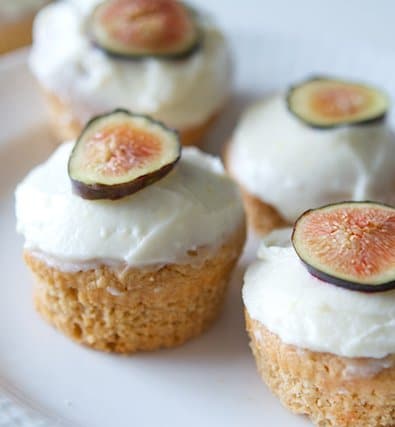 Ingredients
1 cup of almond meal
1 cup of all purpose flour
1 1/2 tsp baking powder
3/4 cup light brown sugar
1/2 cup olive oil
1/2 cup organic milk
2 eggs
2 tbs lemon juice

Fig Filling:

6-8 fresh figs
1 1/2 tbs raw honey
2 tbs orange juice
zest from one lemon

Frosting:

4 ounces of good quality cream cheese
4-6 tbs powdered sugar
zest of 1/2 lemon
1/2 tsp lemon or orange juice
Instructions
Preheat the oven to 350F. Sift all the dry ingredients for the cupcakes. Make a well in the center.
Combine all the wet ingredients and pour them into the centre of the dry ingredients.
Mix together on medium-high speed till the batter comes together. Be careful not to over mix the batter.
Place into a cupcake tray lined with cupcake pans and place into the oven.
While the cupcakes are cooking prepare the filling with the delicious figs. Chop them up into bite sized pieces.
Place them in a saucepan with the rest of the ingredients and heat on medium.
Cook the fig filling till it resembles a thick jam. Cool slightly.
Once the cupcakes are cooked and slightly cooled, cut a small hole in the top being careful not to touch the bottom. Fill with the fig filling and place the top back on.
Make the frosting by beating together all the ingredients. You may need to adjust the quantities slightly so you have a creamy frosting.
Frost the top of the cupcakes, garnish with slices of fresh fig and serve!
https://stlcooks.com/fig-and-almond-cupcakes/
Recipe and Photo: Foodista / CC BY
Also be sure to check out Food with Feelings by clicking here, to see step-by-step photos on how to make this recipe.