Jump to recipe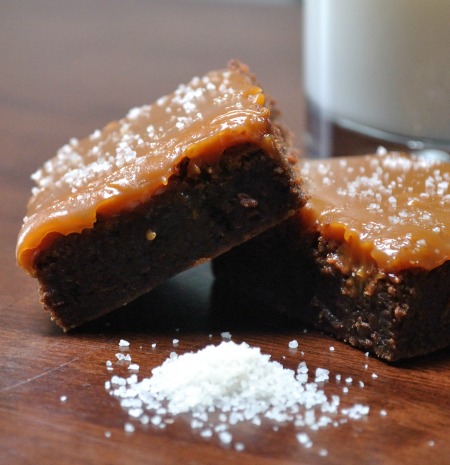 Irish Cream Salted Caramel Brownies

Ingredients
7 tbsp of unsalted butter
1 tbsp extra virgin olive oil
4 oz bittersweet chocolate
2 eggs
1/4 tsp salt
1/2 cup packed brown sugar
1/2 cup sugar
healthy pinch of cinnamon (about 1/8 tsp)
2 tbsp Irish Cream
1/2 cup flour
about 5 oz of good caramel sauce
1/2 tsp flaky sea salt
Instructions
Preheat the oven to 350 degrees, and line an 8×8 pan with parchment paper. Make sure the paper comes up the sides of the pan.
In a small bowl suspended over boiling water, melt together the chocolate, butter, and olive oil.
Meanwhile, in a large bowl, beat together the eggs, salt, sugars, cinnamon, and Irish cream. Incorporate the chocolate mixture, and then fold in the flour until just combined.
Pour the batter into the prepared pan and bake for 30 to 35 minutes, or until the top is shiny and a toothpick inserted into the center comes out fairly clean.
Once the brownies come out of the oven, warm your caramel sauce slightly in the microwave until it's a pourable consistency and pour the caramel sauce evenly over the brownies. Allow the sauce to cool for about 20 minutes or so, and then sprinkle the sea salt over the caramel (if you do it right away, it just sinks down into the caramel).
Cool the brownies completely before cutting.
If you wish to make your own caramel sauce, you can find a recipe for one here. Just make half the recipe, and you should be good to go.
Recipe and Photo: The Haute Meal / CC BY-SA