Jump to recipe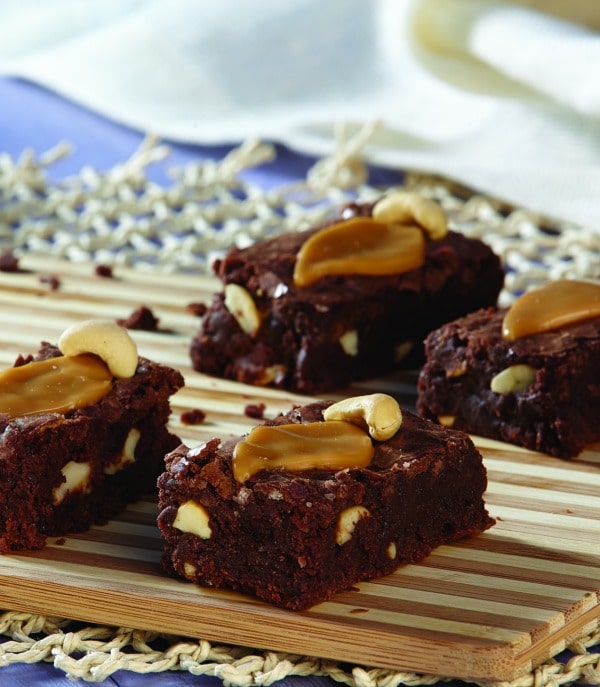 Sweet and Salty Caramel Cashew Brownies

Ingredients
6 ounces semi-sweet chocolate (squares or chips)
12 tablespoons (1-1/2 sticks) butter
1 cup all-purpose flour
1/4 cup cocoa powder
1 teaspoon coarse sea salt
1-1/3 cups granulated sugar
3 eggs
1 teaspoon pure vanilla extract
2/3 cup cashews, chopped plus additional for garnish
15 soft caramel candies
Instructions
Preheat oven to 350°F. Prepare 9-inch x 9-inch pan with parchment paper.
In a large saucepan, melt chocolate and butter over low heat, stirring to combine. Cool slightly.
In a small bowl, stir together flour, cocoa powder and salt. Add sugar, eggs and vanilla to chocolate mixture. Stir until well combined. Add flour mixture; stir until just incorporated. Stir in cashews. Pour into prepared pan.
Bake 24 to 28 minutes or until toothpick inserted into the center comes out nearly clean.
While brownies bake, unwrap caramel candies and roll each one out until it is 1/8 inch in thickness. Cut with medium sized Leaf Cut-Outs cutter.
Remove brownies from oven and immediately top with caramel cut outs, arranging in 3 rows of five. Position a cashew on each caramel. Return to oven for 1 minute. Remove from oven. Cool on cooling grid until just barely warm. Cut into 1-1/2-inch x 3-inch rectangles and serve warm or at room temperature.
Source: Wilton