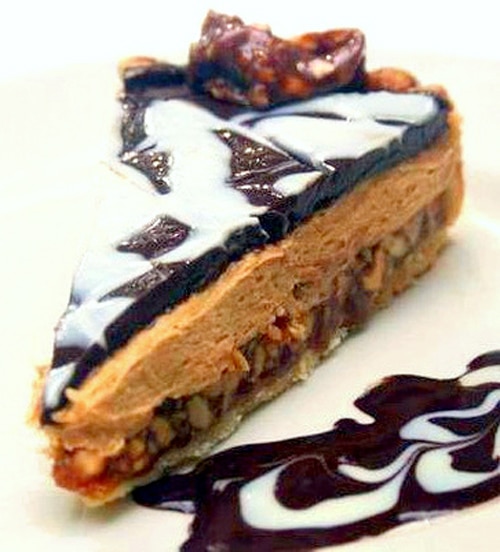 My Must Have Peanut Butter and Chocolate Tart
Ingredients
Crust:

1 1/2 cups all-purpose flour
1 Tablespoon granulated sugar
1/2 teaspoon salt
10 Tablespoons unsalted butter, cold, cut into cubes
5 to 6 tablespoons ice water

Salted Peanut Caramel Layer, See Cooking Tips

1/2 cup (1 stick) unsalted butter
1/4 cup honey
1 cup lightly packed dark brown sugar
1/3 cup heavy cream
2 cups chopped, salted dry roasted peanuts

Peanut Butter Layer

1 1/2 cups creamy peanut butter
1 cup confectioners' sugar, sifted

Ganache topping #1

9 ounces bittersweet, milk or semisweet chocolate (your preference), coarsely chopped
1 Tablespoon light corn syrup
1/2 cup heavy cream

Ganache topping #2

2 1/2 ounces white chocolate, coarsely chopped
2 to 3 Tablespoons heavy cream
Instructions
In a food processor fitted with the metal blade, combine the flour, sugar, and salt and pulse 3 or 4 times, until blended.
Notes
The ingredient amounts for the caramel nut layer just about filled my whole tart pan, leaving barely any room for the peanut butter filling and ganache toppings, without serious overflow. I removed almost half of it, and cooked it to the soft crack stage (290 F) to make awesome, chewy salted peanut caramel candy to top the tart. However, you can use a larger tart pan, 10-11-inch instead of 9, OR cut the salted peanut caramel recipe in half, OR, do what I did, and enjoy some candy!
https://stlcooks.com/my-must-have-peanut-butter-and-chocolate-tart/
For full recipe instructions, visit Parsley, Sage, and Sweet by clicking here!
Recipe and Photo: Parsley, Sage, and Sweet / CC BY-ND