Jump to recipe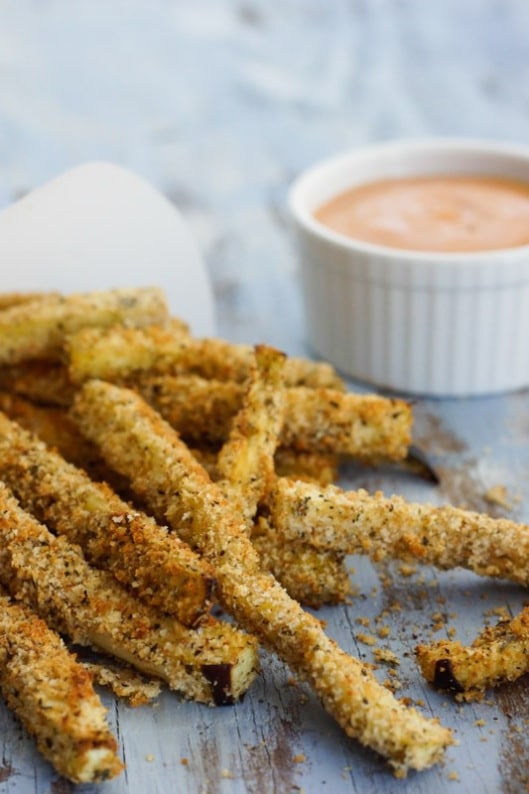 Eggplant Fries – Glam up your bland eggplant

Ingredients
1 eggplant
4 slices of bread, gluten free
1 tablespoon basil
1 tablespoon oregano
1/2 teaspoon salt
1/4 teaspoon pepper
1-2 tablespoons olive oil
Instructions
Using a peeler remove the skin from the eggplant 1/4 inch strips. Set aside.
Preheat oven to 425 degrees.
Lightly toast the bread or bake it for 1-2 minutes.
Slice off the crust then cut it into chunks.
Toss bread into a blender and pulse until crumbly like panko. If bread crumbs still feel damp, spread it out onto a baking sheet and bake it for 1-2 minutes to dry it out.
Pour bread crumbs into a large bowl. Add basil, oregano, salt and pepper.
Drizzle or spray cut eggplant with olive oil. Roll raw fries into panko mixture until well coated.
Transfer fries to an aluminum lined baking sheet. Don't overcrowd tray, leave room between the fries to allow for even cooking. Bake for 10-12 minutes, rotating fries at the halfway mark.
Serve with your favorite dipping sauce, or this Chipotle Aioli Dipping Sauce
Image and recipe reprinted with permission from www.buddhasmenu.com and www.healthyaperture.com