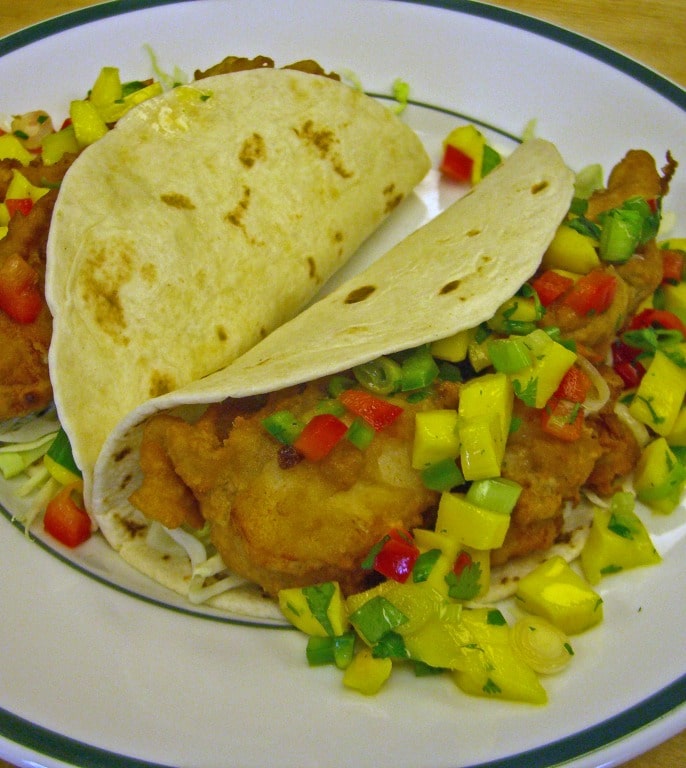 Beer Batter Fish Tacos With Mango Salsa
Ingredients
INGREDIENTS FOR THE FISH TACOS:

6 tortillas
1 Lb. North Atlantic cod fillets, cut into 2" X 1" pieces
1/2 small head of cabbage
1 12 oz bottle of light beer
2 cups all purpose flour
1 pinch of salt
1 pinch of red pepper flakes

MANGO SALSA INGREDIENTS:

1 mango, skinned, seeded and chopped
¼ cup red Bell pepper, chopped
2 green onions, chopped
2 T cilantro, chopped
1 green jalapeno pepper, chopped small
2 T lime juice, usually 1 lime
1 T lemon juice, usually ½ lemon
Instructions
PREPARATION FOR THE FISH TACOS:

Warm the tortillas.
Pour about 1 ½ inches of peanut oil into a 3 ½ to 5 ½ quart Dutch oven. Insert a candy thermometer into the oil and heat to 375*F.
Sift 1 ½ cups flour into a large mixing bowl, add a pinch of salt and a pinch of red pepper flakes, then slowly pour in most of the beer until the batter is sticky.
Pat dry the fish with paper towels then coat with the batter.
Dredge the battered fish in the remaining flour and place several pieces in the hot oil.
Cook this batch, turning frequently until golden brown about 4 to 5 minutes.
Place this batch on a paper towel lined plate in a warming oven set to 175 to 200*F and repeat until all the fish is cooked.
Shred the cabbage while the fish is frying.

PREPARATION FOR THE MANGO SALSA:

Mix ingredients in a ceramic, glass or stainless steel bowl. Cover, refrigerate and let age for at least 30 minutes before serving.
Let warm to room temperature before serving.
https://stlcooks.com/beer-batter-fish-tacos-with-mango-salsa/
Recipe and Photo: Foodista / CC BY