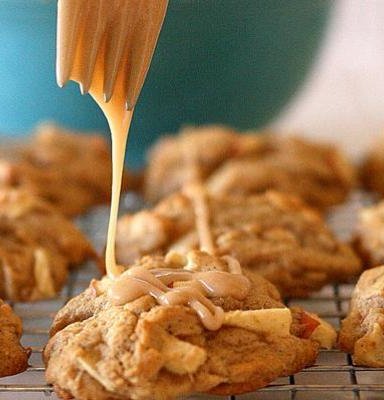 Marvelous Maple-Glazed Apple Cookies
Ingredients
1/2 cup butter, softened (4 oz or one stick)
1 cup brown sugar
1/4 cup milk
2 cups flour
1 egg
1 teaspoon salt
1 teaspoon cinnamon
1/4 teaspoon nutmeg
1/4 teaspoon cloves
1 teaspoon baking soda
2 cups chopped apple

Glaze:

1 tablespoon melted butter
1 cup powdered sugar
1/4 teaspoon maple flavoring
3 tablespoons milk
Instructions
Preheat oven to 400 degrees F.
Cream butter and sugar together in a large mixing bowl until light in color, about 1-2 minutes. Add egg and milk; stir to combine. Add remaining dry ingredients (except apple) and stir just until combined. Gently fold in the apples. Drop by heaping tablespoons onto a greased baking sheet.
Bake at 400 for about 10-12 min or until tops don't look wet anymore.
To make the glaze, whisk together all glaze ingredients in a small bowl. When the cookies have cooled for a few minutes, drizzle each cookie with glaze.
Makes about 1 1/2 dozen.
https://stlcooks.com/marvelous-maple-glazed-apple-cookies/
Recipe and Photo: Foodista / CC BY