Jump to recipe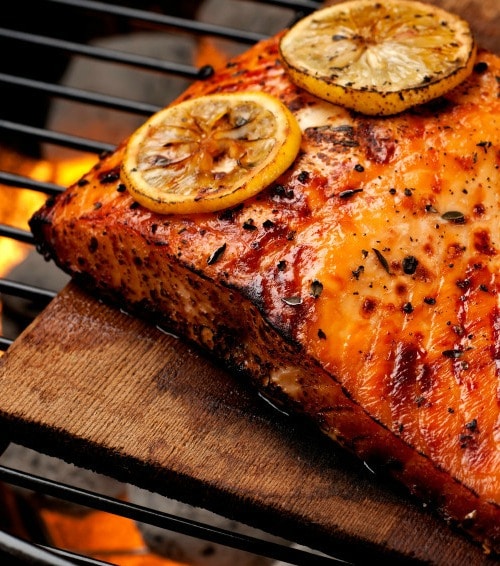 Cedar Plank Grilled Salmon

Ingredients
cedar plank, untreated and preferably made specifically for cooking purposes
spray–bottle filled with water
4 salmon individual filets or steaks, preferably wild-caught as opposed to farmed
lemon juice, fresh, 1 tablespoon
maple syrup, 2 teaspoons
grapeseed oil (or other light-flavoured oil), 2 tablespoons
chipotle pepper, ½ teaspoon crushed dried chipotle pepper (a small amount of a chiptole-flavoured barbeque sauce can be substituted)
rosemary, dried, ½ teaspoon crushed
kosher salt
Garnish
scallions, 2 thinly sliced for garnish
lemon juice, fresh, 2 tablespoons
chipotle pepper, ½ teaspoon crushed dried chipotle pepper (a small amount of a chiptole-flavored barbeque sauce can be substituted)
Instructions
Soak plank completely immersed in water for several hours, or overnight.
Mix the lemon juice, maple syrup, chipotle and rosemary and oil in a small bowl.
Cover the salmon with the mixture and let it rest for 20 minutes at room temperature.
Thinly slice the scallions.
As per the serving suggestion outlined in the "ingredients" mix the 2 tablespoons of lemon juice and the chiptole in a small bowl.
Meanwhile prepare your barbeque at medium-high heat.
Place the plank on the centre of the barbeque and sprinkle the plank lightly with kosher salt.
Close the barbeque lid for a couple of minutes so top of plank dries slightly.
Place the salmon in the centre of the plank, leaving at least one-inch between the fish and the edge of the plank.
Reduce heat to low.
Close barbeque lid and cook for approximately 15 minutes or until desired doneness.
Use spray bottle to quench any fire on the edge of the plank.
When cooked, put on serving platter and garnish with scallions.
Serve with the lemon juice / chipotle mixture as an optional garnish.
Recipe and Photo: recipes.wikia.com / CC BY-SA