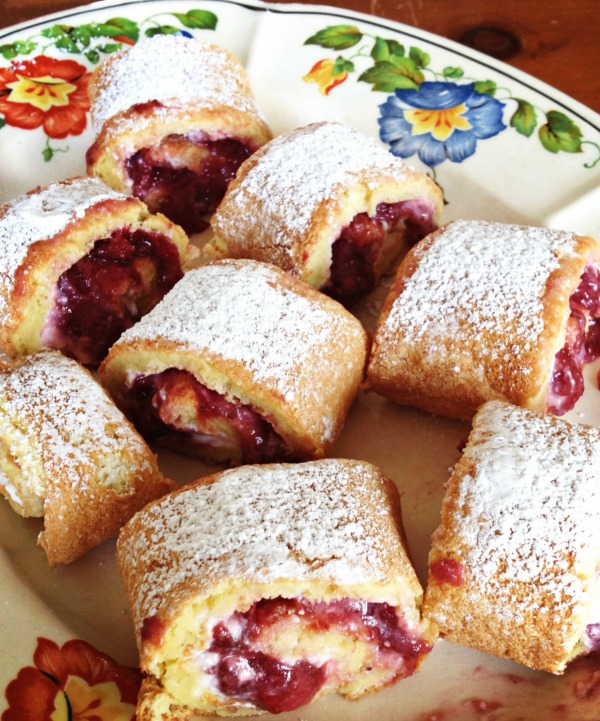 Ingredients
3 eggs, separated
1/4 cup (4 tablespoons) sugar
1 tablespoon cornstarch
1 teaspoon vanilla
1/2 cup cottage cheese
2 tablespoons confectioner's sugar

Homemade Strawberry Jam

1 cup ripe strawberries
2 tablespoons sugar
Instructions
Preheat oven to 375 degrees F.
Line a 12-1/4 x 8-1/4 x 1-inch shallow baking pan with parchment paper coated with non stick spray or butter.
In a medium bowl, whip egg whites until stiff but not dry.
Without washing beaters, beat egg yolks in a large bowl.
Add sugar gradually. Continue to beat until very thick.
Fold cornstarch and vanilla into egg yolks.
Carefully fold egg whites into yolk mixture and pour batter into prepared pan. Smooth batter evenly and bake 12 – 15 minutes, or until cake springs back when gently pressed.
Turn out onto a towel-covered cooling rack. Carefully remove the parchment paper and roll cake up in towel. Let cool.
In a food processor, process cottage cheese and confectioner's sugar until thick and smooth. Set aside.
In a small sauce pan, boil strawberries and sugar down until thick; approximately 15 minutes. Let cool completely.
Once the cake has cooled, unroll and spread lightly with cottage cheese mixture and then the jam.
Roll cake to enclose filling, seam side down.
Dust with confectioner's sugar and refrigerate before serving.
https://stlcooks.com/skinny-jelly-rolls/
Recipe and Photo: Foodista / CC BY