Jump to recipe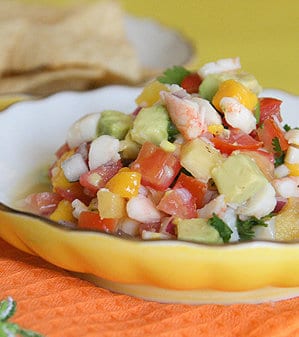 Tropical Ceviche

Ingredients
8 oz. shrimp
8 oz. bay scallops
1/2 red onion, diced
2 jalapenos, seeded and diced
2 Roma tomatoes, chopped
1/3 cup cilantro, roughly chopped
1/4 cup sweet mango, chopped
1/4 cup pineapple, chopped
1/2 cup lime juice
1/2 tsp salt
1/2 tsp pepper
1/2 cup avocado, chopped
Instructions
If you want to speed up the marination process, you can blanch the shrimp and scallops for a couple of minutes until barely cooked. Drain and chop shrimp and scallops. If you prefer working with raw seafood, chop shrimp and scallops without blanching.
In a large mixing bowl, combine shrimp, scallops, red onion, jalapeno, tomatoes, cilantro, mango, pineapple, lime juice, salt and pepper. Mix well.
Refrigerate the ceviche mixture for at least 4 hours to let the flavors incorporate. For better flavor, let it sit overnight.
Just before serving, add the chopped avocado. Serve with tortilla chips.
Recipe and Photo Credit: The Food Addicts / CC BY-NC-SA