Jump to recipe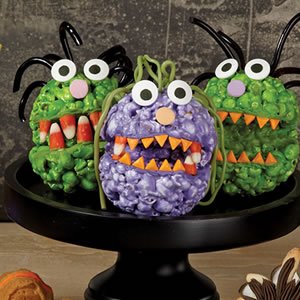 Ingredients
1 jar (about 7 ounces) marshmallow crème
Violet and Orange Icing colors
4 cups popped popcorn, divided
White Candy Melts Candy, melted following package instructions
Large Candy Eyeballs
Animal and People Faces
Sprinkle Sets, candy corn, Jumbo Confetti Sprinkles
Green and Black Candy Strings
Instructions
Spray Dimensions Multi-Cavity Mini Pumpkin Pan cavities with vegetable pan spray.
In large microwave-safe bowl, microwave marshmallow crème 1 minute at 50% power. Remove bowl from microwave and divide marshmallow crème in half; stir icing color into each half (tint slightly darker than how you want your finished treat to look). Stir 2 cups popped popcorn into each marshmallow mixture mixing until evenly coated. Press popcorn treat mixture in bottom cavities only of pumpkin pan to 1 1/2 in. deep; reserve some unmolded popcorn. Let set; unmold.
Attach 2 popcorn ball halves together on one edge, using unmolded popcorn to prop opposite edge open. Using melted candy, attach Candy Eyeballs and sprinkles and candy corn teeth, and Jumbo Confetti nose. Attach candy strings for hair.
Recipe and Photo: Wilton Enterprises