Jump to recipe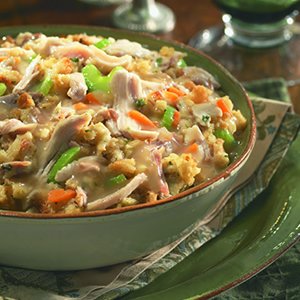 Ingredients
2 1/2 cups prepared mashed potatoes
2 cups cooked, shredded turkey
1 12–ounce jar Heinz HomeStyle Roasted Turkey Gravy
1 cup stuffing, prepared
Salt and pepper to taste
Instructions
Preheat oven to 350°F. Spray a 2-quart casserole dish with nonstick cooking spray and spread prepared mashed potatoes in the bottom.
Combine turkey and gravy in large skillet and bring to a simmer, stirring occasionally. Remove from heat and stir in stuffing until thoroughly combined. Add salt and pepper to taste, if desired. Spoon turkey mixture on top of potatoes and spread evenly.
Cover and bake 25 to 30 minutes, or until heated through.
Recipe and Photo: Heinz Gravy