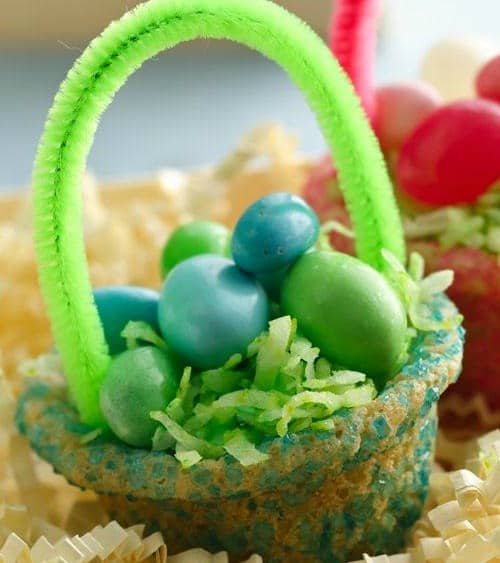 Ingredients
1 roll (16.5 oz) Pillsbury® refrigerated sugar cookies
¼ cup all-purpose flour
1 bottle (2.25 oz) pink and blue colored sugar
1 container (12 oz) fluffy white frosting
2 cups flaked coconut
Food colors
Assorted jelly beans
Pipe cleaners
1/4–inch pastel ribbon
Instructions
Heat oven to 350° F. Grease or spray 24 miniature muffin cups. In medium bowl, stir or knead cookie dough and flour until well blended.
Roll dough into 24 (1 1/4-inch) balls; roll in colored sugar. Press 1 ball into bottom and up side of each muffin cup.
Bake 12 to 15 minutes or until set and edges are light golden brown. Cool in pan 10 minutes; remove to cooling rack
Add coconut to a 1-gallon resealable food-storage plastic bag. Add 3 to 4 drops food color and shake until well blended. It may be necessary to add 1 to 2 teaspoons water to help disperse the color evenly or additional food color until desired color is reached Frost top of each cookie. Decorate with colored coconut and jelly beans. Tie a small ribbon bow on 5-inch piece of pipe cleaner; insert into each basket for handle.
https://stlcooks.com/easter-basket-cookies/
Recipe and Photo: Foodista / CC BY