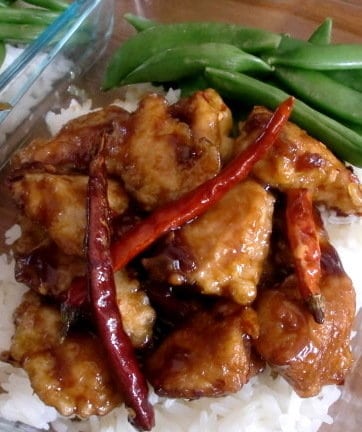 Ingredients
3 eggs, beaten
1/2 cup cornstarch plus 2 teaspoons, divided
1 1/2 pounds chicken tenders, cut in 1–inch chunks
2 tablespoons rice wine vinegar
3 tablespoons rice wine
3 tablespoons sugar
1/2 teaspoon ginger
3 tablespoons low sodium soy sauce
safflower or peanut oil
8 dried chili peppers
1/4 teaspoon red pepper flakes
4 cups cooked jasmine rice
Instructions
In a large bowl, combine the eggs and 1/2 cup cornstarch. Add the chicken and toss to coat. Set aside.
To make the sauce, in a small bowl combine the 2 teaspoons cornstarch, rice wine vinegar, rice wine, sugar, ginger, and soy sauce. Set aside.
In a large saute pan, heat about 1 inch of oil over medium high heat. Add the chicken in batches (do not crowd the pan) and cook until just cooked through and lightly browned. Remove from pan to paper towels.
Over medium high heat, add chicken back to the pan and add chili peppers. Cook for 30 seconds being careful not to burn the peppers. Add in the sauce mixture and toss with the chicken and peppers for about 1 minute.
Sprinkle with the red pepper flakes and serve over jasmine rice.
https://stlcooks.com/general-tsos-chicken-2/
Recipe and Photo: Dinners for a Year and Beyond / CC BY-NC