Jump to recipe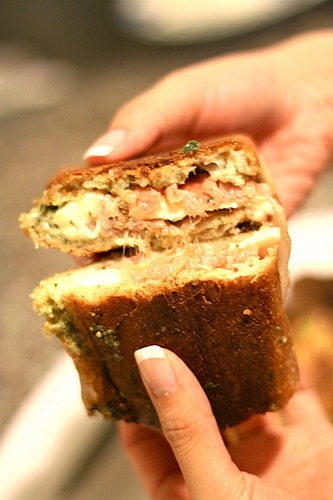 Pesto Prosciutto di Parma Panini

Ingredients
Pesto Mayonnaise (2:1 pesto:mayo)
2-3 slices of Prosciutto di Parma per sandwich
French Baguette cut into 6 inches
Fresh Mozzarella Cheese
Fresh Grounded Black Pepper
Instructions
We don't have a panini press so we cover the sandwiches with a sheet of aluminium foil with a pan stacked on top and a large heavy can to weight the pan. I like to put some pressure on the can to start the panini off.
Heat the pan to medium and melt enough butter and olive oil to lightly coat the pan. Toast each side for 2-3 minutes, until golden brown.
I love the crispy griddle bits of melted mozzarella cheese spilling over the sandwich. Fantastic for lunch the next day. The bread is still crunchy and delicious eaten cold.
We serve the paninis with a simple mixed Spring Salad with Newman's Italian or Balsamic dressing. If I have time I make cheesy Polenta croutons – out of this world.
Recipe and Photo: Bonni Bella / CC BY-ND