Jump to recipe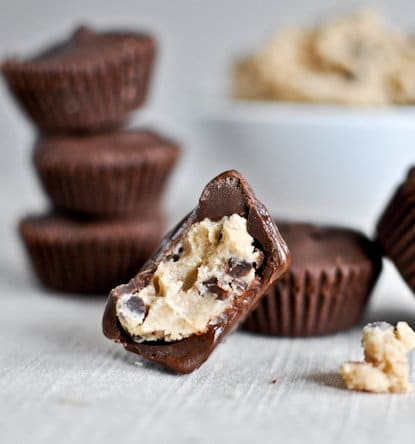 Chocolate Chip Cookie Dough Peanut Butter Cups

Ingredients
2 1/2 cups milk chocolate chips
1/2 cup unsalted butter
1/3 cup packed brown sugar
1 teaspoon vanilla extract
1/4 cup creamy peanut butter
3/4 cup powdered sugar
2 tablespoons all-purpose flour
1/4 teaspoon salt
1/2 cup mini chocolate chips
Instructions
In a small saucepan, heat butter until melted. Whisk in brown sugar until dissolved, then let it bubble for 1-2 minutes. Remove from heat and whisk in peanut butter. The mixture will be liquidly. Whisk in vanilla. Let sit and cool completely, about 20 minutes.
Line a mini muffin with with liners. Melt 1 1/4 cups of chocolate chips (I do mine in the microwave, heating on full power for 20 seconds, stir, 30 seconds again, and stir until melted). Drop 1/2-1 teaspoon of chocolate into each liner, then use a pastry brush to brush chocolate up the sides of the liner. Place in the freezer for 20 minutes. By this point the butter + sugar mix should be cool. Whisk in powdered sugar, salt and flour, until combine and few lumps remain. Fold in mini chocolate chips. The dough will be wet, but pop it in the fridge for 15 minutes to harden.
For full recipe instructions visit How Sweet Eats, by clicking HERE!