Jump to recipe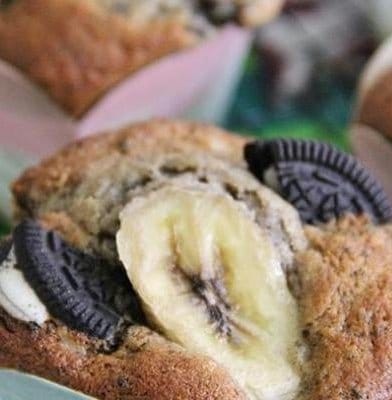 Oreo and Banana Muffins

Ingredients
1 Stick (4 oz.) Butter, soften
½ Cup Sugar
1 Cup Flour
1/2 teaspoon Baking Powder
1/2 teaspoon Baking Soda
2 Egg
2 tablespoons Condensed Milk
2 Medium Banana, mashed with fork
8 Oreo Cookies
1/2 teaspoon Vanilla extract
1/4 teaspoon Banana extract, optional
Instructions
Sift the flour, baking power and baking soda together and set aside.
Remove the cream from the cookies, place the cookies in a ziplock bag, use a rolling pin, crush the cookie into fine crumbs.
Cream butter and sugar with electric beater till light and fluffy(about 3 minutes on medium speed).
Add in egg one at a time and beat till the mixture is well combine without any egg trace.
Add mashed banana, vanilla extract and condensed milk into the butter mixture and give it a quick whisk.
Lower the mixer speed, add flour mixture and blend the mixture till smooth.
Stir in the oreo cookies crumbs till combined, scoop the mixture into prepared muffin cups to 3/4 full.
Top the muffin batter with some extra banana slices and oreo cookies, bake them in preheated 350 degree oven for about 20 – 25 minutes or till a toothpick inserted in the center and comes out clean.
Recipe and Photo: Foodista / CC BY