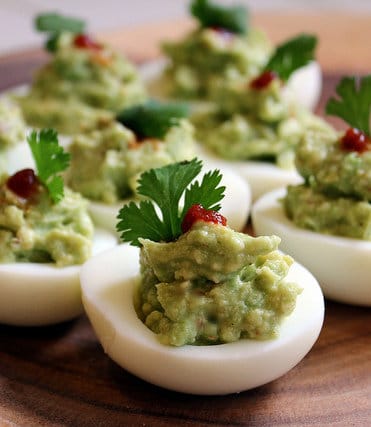 Easy Guacamole Deviled Eggs
Ingredients
1 dozen hard boiled eggs
1 large avocado (or 2-3 small)
1 small lime
2 pinches chile powder
Salt to taste
Sriracha and cilantro for garnish, optional
Instructions
Boil and eggs and set aside to cool completely. Once cooled, slice in half lengthways; remove and discard yolks. Rinse under cool water to remove traces of yolk and let drain on a clean paper towel.
In a small bowl, scoop out avocado and mash well with the back of a fork. Add the juice of the lime and the chile powder. Mix well. Season to taste with salt.
Using a small spoon, distribute guacamole even between the egg halves.
Optional: Add a small dollop of sriracha on top of each egg. Garnish with a leaf of cilantro and serve.
https://stlcooks.com/easy-guacamole-deviled-eggs/
Recipe and Photo: Foodista / CC BY