Jump to recipe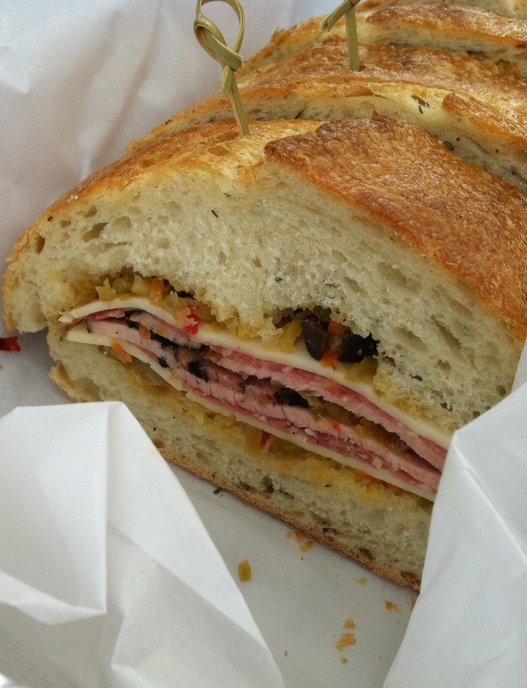 Muffuletta Sandwiches

Ingredients
1 10" round loaf Italian bread
1/4 lb Genoa Salami
1/4 lb Hot Capicola or ham
1/4 lb Mortadella
2 oz Sliced Mozzarella
2 oz Provolone
Muffuletta Olive Salad
1 1/2 Cups Green Olives, Pitted
1/2 Cup Calamatta Olives (or Black) Pitted
1 Cup Gardiniera (Pickled Cauliflower, Carrots, Celery, Pepperoncini)
1 Tbsp. Capers
3 each Fresh Garlic cloves, thinly sliced
1/8 Cup Celery, thinly sliced
1 Tbsp. Italian Parsley, finely chopped
1 Tbsp. Fresh Oregano (When I have it in my garden) or 2 tsp. dried
1 tsp. Crushed red pepper flakes
3 Tbsp. Red Wine Vinegar
1/4 Cup Roasted red peppers (Recipe follows)
1 Tbsp. Green Onions, thinly sliced
Kosher Salt & Freshly Ground pepper To Taste
Instructions
Cut the bread in half length wise.
Brush both sides with the oil from your 1 week old Olive Salad, go a little heavier on the bottom.
Layer half of the Salami on the bottom half of the bread. Then the Mortadella. Then the Mozzarella, then the Capicola, Provolone, and the remainder of Oldani. Top this with the olive salad. Put the lid on and press it down without smashing the bread. Quarter it. You've just created pure heaven.
Muffuletta Olive Salad
Crush each olive on a cutting board with your hand. Combine all ingredients. Cover with Extra Virgin Olive Oil about 1 – 1 1/2 Cups
Photo: Killer Nuts Tailgating / CC BY-SA
Recipe adapted from: NOLA Cuisine