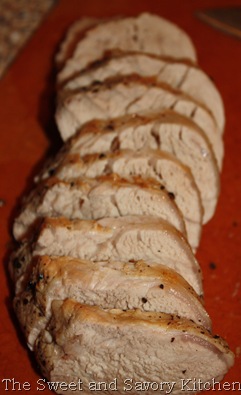 Pork Tenderloin in an Apple Maple Brine
Ingredients
2 Lb Pork Tenderloin
3 1/2 cups hot water
1/4 cup kosher salt
1 cup apple juice
1/4 cup maple syrup
2 tablespoons brown sugar
1 tablespoon cracked black peppercorns
Instructions
Stir together the hot water and salt until the salt is dissolved. Add the apple juice, maple syrup, sugar and
black pepper. Pour brine into a large zip lock bag and seal. Place bag into a large bowl of ice water to cool down.
Trim any excess fat from the meat and remove the silver skin carefully. Once the brine is cool, submerge the pork in the brine, making sure the meat stays under the surface during curing. Place the bag containing the marinade and pork into a bowl in order to prevent any leaks. Refrigerate the pork in the brine for six to eight hours.
Preheat the oven to 425 degrees. Heat a large ovenproof skillet coated with cooking spray over medium high heat. Remove pork from brine and rinse then pat dry. Season with freshly cracked pepper. Add pork to the skillet, cook 6 minutes, browning on all sides. Place pan in the oven, and bake for 10 to 15 minutes or until meat thermometer reads between 155 and 160 degrees or until desired doneness. Let stand five minutes before slicing.
https://stlcooks.com/pork-tenderloin-in-an-apple-maple-brine/
Recipe and Photo: The Sweet and Savory Kitchen