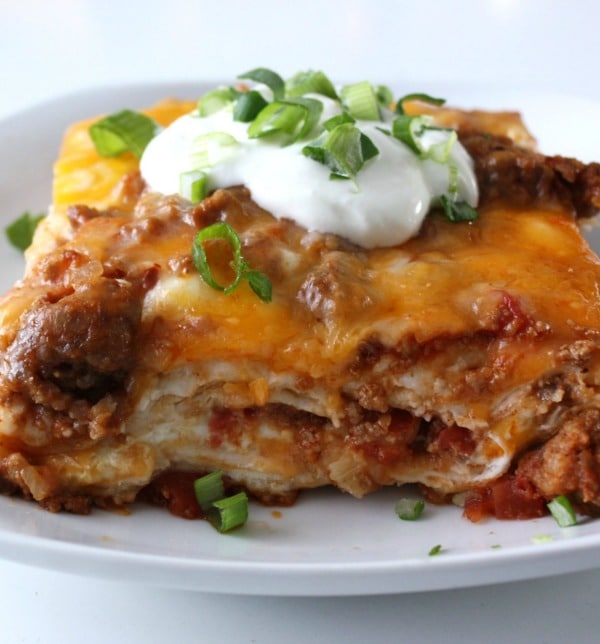 Ingredients
1 1/2 lbs ground beef
1 medium onion, chopped
1 garlic clove, minced
1 can (14 oz) stewed tomatoes
1 can (10 oz) enchilada sauce
1 packet of taco seasoning
1 egg, beaten
1 1/2 cups cottage cheese
3 cups Mexican blend shredded cheese
8 flour tortillas (8 inch) cut in half
1 cup shredded cheddar cheese
salt and pepper
Instructions
In a large skillet, cook the beef, onion and garlic over medium heat until the meat is no longer pink; drain. Add in a fourth to a half of the packet of taco seasoning (I used only about a quarter) to the meat and onions. Stir until fully incorporated. Then stir in the enchilada sauce, tomatoes, salt and pepper (watch the salt). Bring to a boil, reduce heat and simmer uncovered for 20 minutes.
In a small bowl, combine egg and cottage cheese; set aside. Spread 1/3 of the meat sauce into a greased 13×9 baking dish. Layer with half of the cheese blend, tortillas, cottage cheese and remaining meat sauce. Repeat layers and sprinkle with cheddar cheese.
Cover and bake at 350 for 20 minutes. Uncover; bake 10 minutes longer or until bubbly. Let stand for 15 minutes before cutting.
Top with sour cream, guacamole or pico de gallo if you like.
https://stlcooks.com/mexican-lasagna-2/
Recipe and Photo: Sunshine and Bones / CC BY-SA