Jump to recipe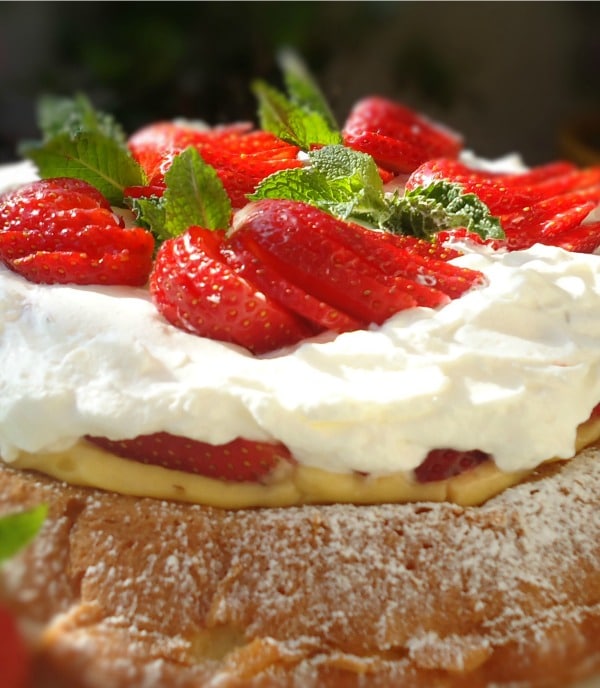 Strawberry Custard Mary Ann Cake with Whipped Cream

Ingredients
1 1/2 cups all-purpose flour
1 teaspoon baking powder
1/2 teaspoon salt
1/2 cup butter, at room temperature
3/4 cup granulated sugar
1/4 cup fresh lemon juice
3 large eggs, at room temperature
1/3 cup milk
Topping
1/4 cup strawberry preserves
1 box vanilla pie filling, prepared according to package directions or home made pastry cream
1 cup strawberries, washed and sliced plus additional berries for decoration
1 cup whipped heavy cream, slightly sweetened
Instructions
Preheat oven to 350 degrees and lightly butter and flour an 8 1/2 or 10 inch Mary Ann pan.
In a bowl mix together flour, baking powder, and salt. Set aside.
With mixer cream butter and sugar until light and fluffy. Add lemon juice and eggs, one at a time. Scrape down sides of the bowl and continue beating until well combined. Mixture may look curdled, because of the lemon juice.
Add dry ingredients, alternating with milk in 3 additions and gently combine.
Pour into prepared pan and bake for 34 to 38 minutes or until cake springs bake when lightly pressed.
Let cool in pan for 5 minutes before turning it out onto a wire rack.
Brush cooled cake with strawberry preserves and top with custard. Arrange strawberries in a circular pattern and cover with whipped cream. Decorate with additional berries and mint leaves. Dust edges of cake with confectioners' sugar.
You can find info about the "Mary Ann Cake Pan" by clicking here. (Disclosure: although we link to King Arthur Flour, we do not make any money from the link, any sales made, and we have not received any compensation for placing this link on our site.)
Recipe and Photo: Foodista / CC BY