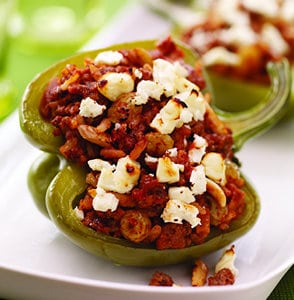 Recipe: Mediterranean-Style Stuffed Peppers
Ingredients
2 teaspoons Rosemary Leaves, finely crushed
1 teaspoon Ground Cinnamon
1 teaspoon Oregano Leaves
1/2 teaspoon sea salt
Sea Salt Grinder
1 pound lean ground beef
1 can (14 ounces) no salt added tomato sauce
1/3 cup golden raisins
1/4 cup toasted slivered almonds
1 cup cooked brown rice
1 egg, beaten
4 medium green bell peppers, halved lengthwise, stem and seeds removed
1/2 cup crumbled reduced fat feta cheese
Instructions
Mix rosemary, cinnamon, oregano and sea salt in small bowl. Set aside. Cook ground beef in large skillet on medium-high heat 5 to 7 minutes or until no longer pink, stirring occasionally to break up meat. Drain fat. Add spice mixture; cook and stir 1 minute.
Stir in tomato sauce, raisins and almonds. Bring to boil. Remove from heat. Add rice and egg; mix well. Arrange bell pepper halves, cut-side up, in 13 x 9-inch baking dish. Spoon beef mixture evenly into bell pepper halves. Pour 1/4 cup water into dish. Cover with foil.
Bake in preheated 375°F oven 45 minutes or until bell peppers are tender. Sprinkle filling with feta cheese. Bake, uncovered, 12 to 15 minutes longer or until cheese is lightly browned.
Preparation time: 10 minute(s)
Cooking time: 1 hour 15 minute(s)
Number of servings (yield): 8
Recipe and Photo Courtesy of McCormick & Company