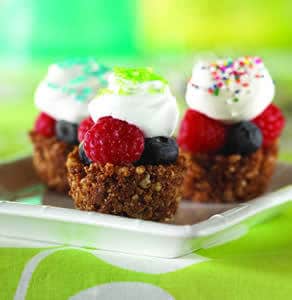 Recipe: Itsy Bitsy Fruit Pies
Ingredients
1/2 cup butter or margarine
1 cup milk chocolate morsels
1/4 teaspoon cinnamon
4 cups Kellogg's(r) Rice Krispies(r) cereal
2 cups assorted fresh chopped fruits
Frozen non-dairy whipped topping, thawed
Assorted sprinkles
Instructions
In medium saucepan, melt butter over low heat. Stir in chocolate morsels until melted. Remove from heat. Stir in cinnamon.
Place cereal in large bowl. Carefully pour melted chocolate mixture over cereal. Gently stir until cereal is completely coated with chocolate.
Spoon cereal mixture into twenty-four 1 1/2-inch muffin-pan cups coated with cooking spray. Using your finger or thumb, press cereal mixture onto bottoms and up the sides of each cup, forming crusts.
Place crusts in freezer for 30 minutes. Remove from freezer. Refrigerate, covered, until ready to serve.
Before serving, fill each crust with fresh fruit. Dollop with whipped topping. Decorate with sprinkles. Serve immediately.
Recipe and Photo Courtesy of Rice Krispies