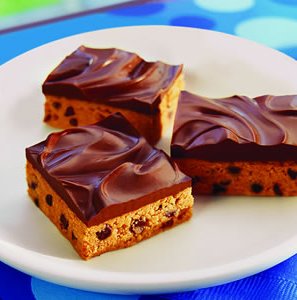 Recipe: No-Bake Chocolate Peanut Butter Bars
Ingredients
2 cups peanut butter, divided
3/4 cup (1 1/2 sticks) butter, softened
2 cups powdered sugar, divided
3 cups graham cracker crumbs
2 cups (12-ounce package) Nestlé Toll House Semi-Sweet Chocolate Mini Morsels, divided
Instructions
GREASE 13 x 9-inch baking pan.
BEAT 1 1/4 cups peanut butter and butter in large mixer bowl until creamy. Gradually beat in 1 cup powdered sugar. With hands or wooden spoon, work in remaining 1 cup powdered sugar, graham cracker crumbs and 1/2 cup morsels. Press evenly into prepared baking pan. Smooth top with spatula.
MELT remaining 3/4 cup peanut butter and remaining 1 1/2 cups morsels in medium, heavy-duty saucepan over lowest possible heat, stirring constantly, until smooth. Spread over graham cracker crust in pan. Refrigerate for at least 1 hour or until chocolate is firm. Cut into bars. Store in covered container in refrigerator.
Recipe and Photo Courtesy of Nestlé