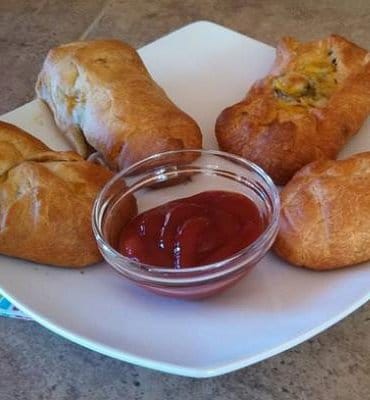 Kobe Cheeseburger Pockets
Ingredients
1 Lb. Extra lean ground beef
4 Slices Cheese – Choose your favorite
¼ Cup Minced Sweet Onion
1/8 Tsp. Ground Pepper
1/8 Tsp. Kosher Salt
1/8 Tsp. Paprika
16 slices pickles or Jalapeños
2 (8 ounce) packaged refrigerated crescent rolls
Instructions
Preheat oven to 350 degrees F (175 degrees C).
On an ungreased cookie sheets divide crescent roll dough into rectangles. Do not separate at the diagonal perforations. (Try pinching the diagonal perforation together to make a solid piece of dough).
In a medium mixing bowl, mix the 1 lb of ground beef together with the onion, salt, pepper, and paprika.
Place ¼ cup of the beef mixture onto each crescent sheet; top with your pickles or jalapenos. Stretch dough over meat.
Bake in preheated oven until golden brown, about 21 minutes.
https://stlcooks.com/kobe-cheeseburger-pockets/
Recipe and Photo: Foodista / CC BY