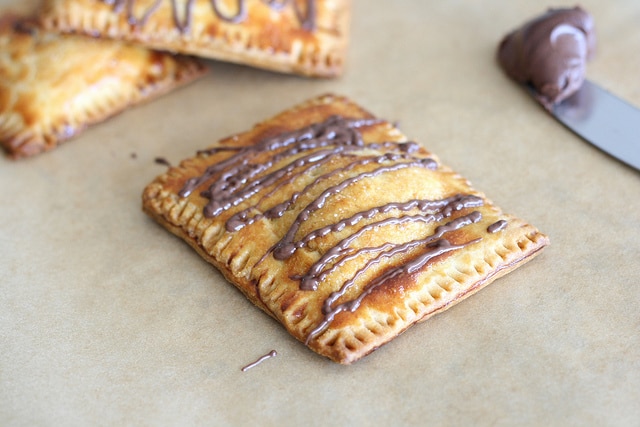 Ingredients
2 9–inch pie crusts
1/4 cup Nutella (or more as necessary)
Flaky sea salt for sprinkling
1 egg lightly beaten for egg wash
Sugar for sprinkling
Instructions
Preheat the oven to 400 degrees and line a baking sheet with parchment paper.
Unroll the dough and cut into 12 3-inch by 2-inch rectangles. Place 1 teaspoon of Nutella in the center of 6 of the rectangles. Sprinkle the each Nutella-filled rectangle with a bit of sea salt.
Dab a bit of the egg wash around the edges of each Nutella-filled rectangles and cover with an unfilled rectangles. Use a fork to seal the edges and also to poke holes in the top of the pastry for steam to escape.
Brush the tops of each pastry with egg wash and sprinkle with a bit of sugar. Bake 15-20 minutes until the pastry is golden brown and the sugar has caramelized a bit.
While the pop tarts are cooling, heat the remaining Nutella in the microwave for 10 seconds at a time until it has a liquid consistency. Use a fork or spoon to drizzle the warmed Nutella over the pastries. Serve slightly warm.
https://stlcooks.com/nutella-pop-tarts/
Recipe and Photo: Dishing Up Delights / CC BY-NC-ND