Jump to recipe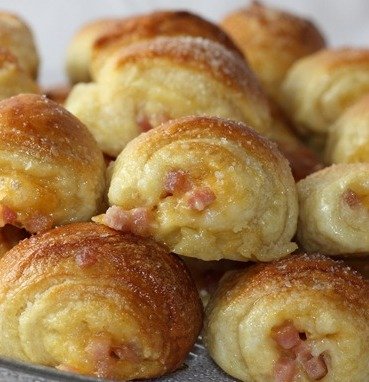 Ham and Cheese Pretzel Bites

Ingredients
For the Dough:
1 1/2 teaspoon instant yeast
2 tablespoons light brown sugar
1/4 cup warm water
1 cup warm milk
2 1/2 to 3 cups all-purpose flour
For the Filling:
1?/2 cup small diced ham
1/2 cup shredded sharp cheddar cheese
To Finish:
6 cups water
4 teaspoons baking soda
4 tablespoons unsalted butter, melted
Kosher salt (or pretzel salt), for topping
Instructions
To Make the Dough:
Combine yeast, brown sugar, water, milk, and 2 1/2 cups of flour in the bowl of a stand mixer fitted with the paddle attachment. Mix until a dough has formed into a ball. Switch to the dough hook and knead on low speed until soft, elastic dough forms. Add the remaining 1/2 cup of flour, 1 to 2 tablespoons at a time until the dough is tacky but not sticky.
Transfer the dough to a lightly oiled bowl, turning once to coat. Cover with plastic wrap and let rise in a warm place, until the dough has doubled in size and bubbles on the surface, about 1 1/2 to 2 hours.
To Finish:
Turn out the dough onto a lightly floured surface. Divide into 4 equal pieces. Stretch or roll one piece of the dough into a 12 x 4 inch rectangle. Sprinkle some of the diced ham and the shredded cheese over one third of the dough closest to an edge, lengthwise. Roll up tightly, filling edge first, so that the filling is tightly sealed inside. Slice the log into 12 pieces and transfer to a baking sheet lined with parchment paper or a silicone baking mat. Repeat with the remaining three portions of dough, and the remaining filling.
Preheat oven to 400 degrees. Bring the six cups of water to a boil in a large pot. Add the baking soda and reduce the heat to a gentle simmer. Boil the pretzels in batches, cooking for about 20 seconds and turning once. They should be slightly puffed. Use a slotted spoon or skimmer to transfer them back to the baking sheet.
Bake until puffed and golden brown, about 15 minutes. Brush the warm pretzel bites with the melted butter and sprinkle with kosher salt.
Recipe and Photo: Whole Lotta Oven / CC BY