Jump to recipe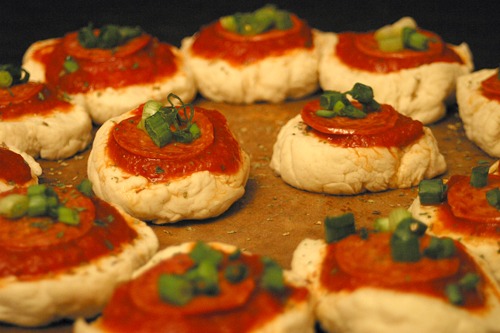 Pepperoni Pizza Bites

Ingredients
1 pkg. pizza dough
1 pkg. Hormel pepperoni slices
3 green onions chopped
Prego Italian sauce flavored w/meat (you can also have it w/o meat)
dried italian seasonings
dried parsley
All-purpose flour
Instructions
Preheat oven to 400 degrees.
First, take some flour and spread over a cutting board and then roll the dough on it to keep it from sticking. Roll gently into a log. Then with a serrated knife (mine is Chicago Cutlery), cut dough into 1? rounds. You might end up with 13 or 14 altogether. Lay them on the pizza stone, put a little room between each one so they can spread while baking. If they touch, that's ok because they come loose pretty easily once they're done.
Then spoon some Italian sauce on each pizza and then top with 1 pepperoni slice. Top that with some green onions. Then sprinkle the dried herbs on each slice. Bake in the oven for about 20 minutes or until the dough is golden brown. You can add some shredded cheese if you like.
Recipe and Photo: Ordinary Recipes Made Gourmet / CC BY