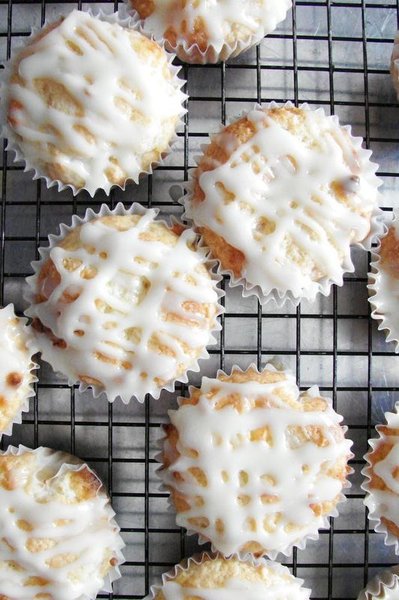 White Chocolate Macadamia Muffins
Ingredients
1-3/4 cups all-purpose flour
3/4 cup sugar
2-1/2 teaspoons baking powder
1/2 teaspoon salt
1 egg
1/2 cup milk
1/4 cup butter, melted
3/4 cup white baking chips
3/4 cup chopped macadamia nuts

Glaze:

1/2 cup white baking chips
2 tablespoons heavy whipping cream
Instructions
In a large bowl, combine the flour, sugar, baking powder and salt. In another bowl, combine the egg, milk and butter; stir into dry ingredients just until moistened. Fold in chips and nuts.
Fill paper-lined muffin cups two-thirds full. Bake at 400° for 15-18 minutes or until a toothpick inserted near the center comes out clean. Cool for 5 minutes before removing from pan to a wire rack.
For glaze, in a microwave, melt chips with cream at 70% power for 1 minute; stir. Microwave at additional 10- to 20-second intervals, stirring until smooth. Drizzle over warm muffins. Serve warm.
https://stlcooks.com/white-chocolate-macadamia-muffins/
Recipe and Photo: Lorie's Mississippi Kitchen / CC BY