Jump to recipe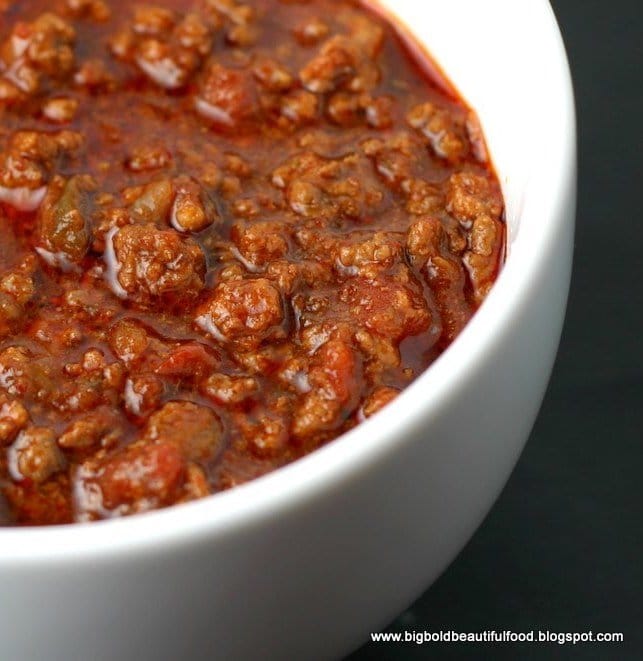 Recipe for Go Hot or Go Home Beef Chili – Meaty, rich, and with the right amount of heat. This chili recipe will be one of (if not THE) best you have ever tried!
Go Hot or Go Home Beef Chili – Award Winner

Meaty, rich, and with the right amount of heat. This chili recipe will be one of (if not THE) best you have ever tried!

Ingredients
2 ½-3 lbs. ground beef or beef chuck hand cut into small 3/8?-1/2? chunks
7 slices of bacon, cut into ¼ inch pieces
2 medium onions or 1 large onion, finely chopped
3-4 garlic cloves minced
2 tbs. cumin
1 tbs. oregano
4 tbs. chili powder (ideally one like Penzey's which is ancho chile and new Mexican chile or you can grind your own in a coffee grinder)
Green chiles in small can (e.g, Ortega brand)
1/2 chipotle chili in adobo sauce (or more if you dare; you can freeze the rest of the can in spoonful-sized portions for future use)
1-2 jalapenos, seeded and diced
2 poblano chilis, seeded and diced
1-2 serrano chili, seeded and diced
1 dried cascabel chilis, seeded (optional)
1-2 dried guajillo peppers, seeded (optional)
1 cup coffee (optional)
Salt and pepper to taste
1 28 oz can of crushed tomatoes (put 1/2 a can first and see if it's enough)
1 14 1/2 oz. can diced tomatoes (preferably Rotel)
1 11.2 fl. oz. bottle of Guinness beer
1 tsp beef concentrate or 1 cup beef broth
1 block of semi-sweet or bittersweet chocolate (Baker's chocolate comes in blocks)
1 can of kidney, red pinto, or black beans (optional)
1 corn tortilla (optional)
Instructions
Before you start to cook, combine onions, poblano, jalapeno and serrano together. Also, mix the chili powder, cumin, and oregano together in a bowl. Puree the chipotle in adobo with a little water.
Render bacon until crisp in dutch oven; set bacon aside.
Brown meat cubes in bacon fat in batches, setting aside when browned. Salt and pepper meat to season. If using ground beef, brown meat in bacon fat and then drain. Salt and pepper to season. Set aside.
Add some vegetable oil to the dutch oven, and when hot, add onions, poblanos, jalapeno, and serrano peppers and cook until translucent(5 minutes); add garlic for a minute, being careful not to burn it.
Add chili powder, cumin, and oregano mixture to onions and fry for a couple minutes to release flavors.
Add beef to onions and spices. Mix together and cook for a few minutes.
Add the Guiness beer and pureed chipotle in adobo and bring to a simmer. Let cook for five minutes.
Add tomatoes, and beef concentrate or broth. If you have a cascabel chile, add it; if you don't, don't worry about it. Stir everything together.
Bring to a simmer and cook for one hour.
While the chili is simmering, simmer the guajillos in hot water or coffee to cover. When the guajillos are soft, puree in blender.
After one hour, add the piece of chocolate. Add guajillo mixture to taste (you want to taste; if your chili is too spicy for you already, then you don't want to add that much). Simmer another hour or until meat is softened. If you're adding beans, add them 15 minutes before you finish cooking. Pull out cascabel chili before serving.
Adjust seasonings to your taste. If you feel it needs something to brighten it up, you can add a couple tablespoons of salsa and/or a squirt of ketchup. Serve alone, or with rice, nacho chips, shredded cheese, sour cream, and hot sauce.
Recipe and Photo: Big Bold Beautiful Food / CC BY