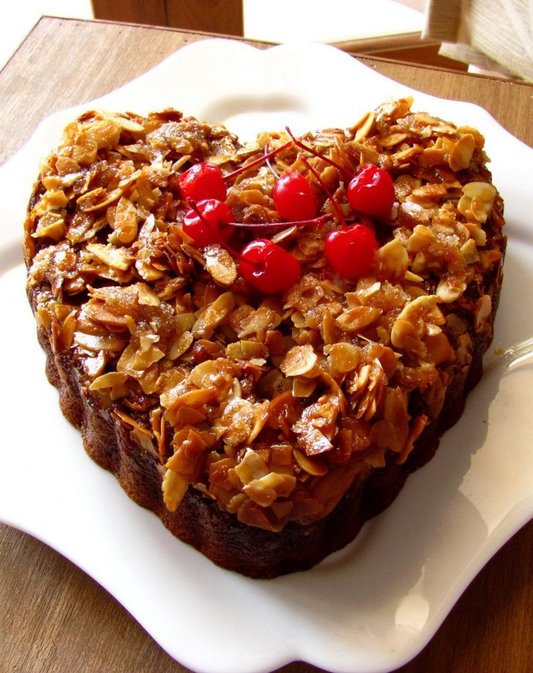 Recipe: Orange-Almond-Caramel Upside-Down Cake
Ingredients
Topping:
1 cup sliced almonds
6 Tbsp. unsalted butter
2/3 cup packed light brown sugar
1/4 cup honey
Cake:
1 1/2 cups all-purpose flour
1 tsp. baking powder
1/2 tsp. baking soda
1/4 tsp. salt
1/2 cup yogurt
2 large eggs
1/4 cup orange juice
1 tsp. vanilla extract or a vanilla bean (2 is better)
1/2 cup (1 stick) salted butter, softened
3/4 cup vanilla sugar
grated orange zest of 5 oranges
Instructions
Prepare the topping:
Preheat the oven to 350 degrees. Grease a 9″ round pan/heart shaped pan, line with parchment paper, then grease and flour the parchment paper.
Toast the almonds on a baking sheet until golden, 8 to 10 minutes. Melt the 6 tablespoons of butter over medium heat, then stir in the brown sugar. Reduce to heat to low and cook, whisking, 2 minutes. Scrape into the pan, then drizzle with honey. Spread the almonds over the honey and set aside.
Prepare the cake:
In a medium mixing bowl combine the flour, baking powder, baking soda, and salt.
Stir together the sour cream, eggs, orange juice, and vanilla in a glass measuring cup or small bowl.
In the bowl of a stand mixer (you can also use a hand mixer) cream together the sugar and 1 stick butter on medium speed, until really light and fluffy, about 3 minutes,alongwith the orange zest and Vanilla.
With the mixer turned to medium-low, add the egg mixture in a slow stream, stopping once to scrape down the sides of the bowl.
Turn the mixer to low, then add the flour mixture 1/2 cup at a time, scraping down the mixer after each addition. Raise the speed to medium, and beat for 30 seconds.
Pour the batter into the pan, then smooth with an spatula.
Bake the cake for 35 to 40 minutes, until a toothpick inserted in the center of the cake comes out clean.
Let cake cool on a wire rack 5 minutes.
Place a plate over the pan, then, holding tightly with oven mitts, quickly flip the cake out onto the plate. If any almonds stick to the pan you can scrape them out and place them on top of the cake. Let cake cool at least 20 minutes before serving.
Store cake at room temperature in a cake keeper, or wrapped in plastic, up to 2 days.
Recipe and Photo: Bright Morning Star / CC BY-ND