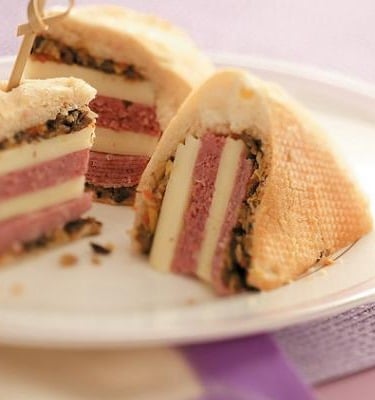 Easy Mini Muffuletta for Mardi Gras
Ingredients
1 jar (10 ounces) pimiento-stuffed olives, drained and chopped
2 cans (4-1/4 ounces each) chopped ripe olives
2 tablespoons balsamic vinegar
1 tablespoon red wine vinegar
?1 tablespoon olive oil
3 garlic cloves, minced
1 teaspoon dried basil
1 teaspoon dried oregano
6 French rolls, split
1/2 pound thinly sliced hard salami
1/4 pound sliced provolone cheese
1/2 pound thinly sliced cotto salami
1/4 pound sliced part-skim mozzarella cheese
Instructions
In a large bowl, combine the first eight ingredients; set aside. Hollow out tops and bottoms of rolls, leaving 3/4-in. shells (discard removed bread or save for another use). ?
Spread olive mixture over tops and bottoms of rolls. On roll bottoms, layer with hard salami, provolone cheese, cotto salami and mozzarella cheese. Replace tops. ?
Wrap tightly in plastic wrap. Refrigerate overnight. Cut each into six wedges; secure with toothpicks.
https://stlcooks.com/easy-mini-muffuletta-for-mardi-gras/
Recipe and Photo: Foodista / CC BY