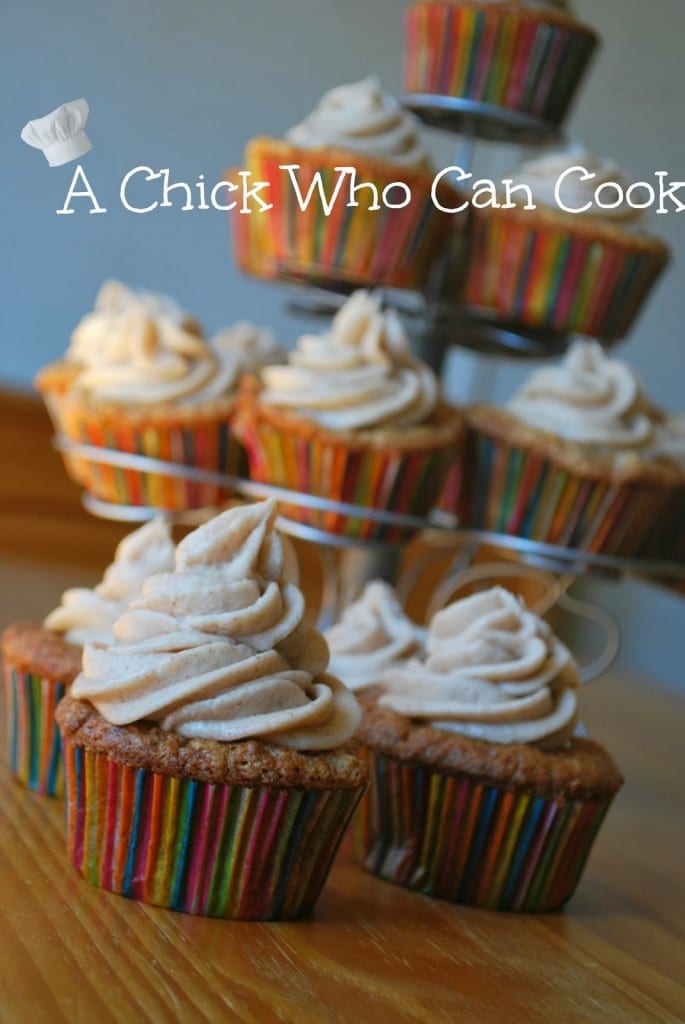 Apple Cupcakes with Butter Cream Frosting
Ingredients
2 1/4 cups all-purpose flour
2 teaspoons baking soda
2 teaspoons ground cinnamon
1/2 teaspoon ground nutmeg
1 teaspoon salt
8 tablespoons (1 stick) unsalted butter, softened
2 cups sugar
2 large eggs
1 teaspoon vanilla extract
4 cups coarsely shredded apples, such as Macintosh (about 1 3/4 pounds)

Cinnamon Butter Cream

4 sticks butter, softened
2 teaspoon vanilla extract
2 tablespoon cinnamon
4 cups powdered sugar
6 tablespoons heavy cream
Instructions
Preheat oven to 350 degrees. Line two standard muffin tins with paper liners; set aside. Whisk together flour, baking soda, cinnamon, nutmeg, and salt in a medium bowl; set aside. Cream butter and sugar on medium-high speed in the bowl of a mixer fitted with the paddle until pale and fluffy, about 5 minutes. Mix in eggs and vanilla.
Reduce speed to low; mix in apples. Add flour mixture; mix, scraping down sides of bowl as needed, until just combined.
Fill lined cups halfway with batter; bake until tops are springy to the touch, 18 to 20 minutes. Remove from tins; let cool on a wire rack. When completely cool, frost cupcakes

Cinnamon Butter Cream

Beat butter in large bowl of an electric mixer on medium speed until light, fluffy, and almost white in appearance. Add 1 teaspoon vanilla; mix until blended. Add in 1 tablespoon cinnamon and 2 cups powdered sugar. Beat until well blended. Add 3 tablespoons of heavy cream and beat until light and fluffy, about 3 minutes. Add more powdered sugar to stiffen the butter cream, or more heavy cream to make it more spreadable, as you desire.
https://stlcooks.com/apple-cupcakes-with-butter-cream-frosting/
Recipe and Photo: Chick Who Cooks / CC BY-SA