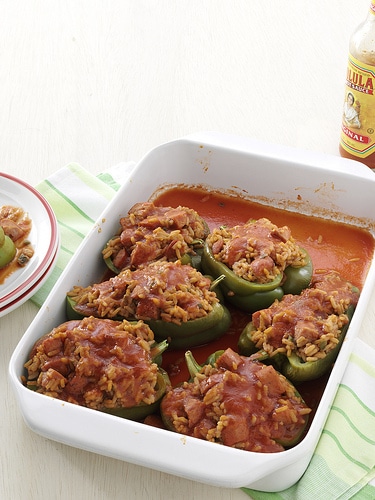 Easy Andouille-Stuffed Peppers
Ingredients
1 package (8 ounces) jambalaya mix
4 small green peppers
3/4 pound fully cooked andouille sausage links, chopped
1 jalapeno pepper, seeded and minced
1 can (16 ounces) tomato juice
Louisiana-style hot sauce, optional
Instructions
Prepare jambalaya mix according to package directions.
Meanwhile, cut peppers lengthwise in half; remove seeds.
In a large skillet, cook and stir sausage over medium-high heat until browned. Add jalapeno; cook 1 minute longer.
Stir sausage mixture into prepared jambalaya. Spoon into pepper halves. Place in a greased 13-in. x 9-in. baking dish; pour tomato juice over and around peppers.
Bake, uncovered, at 350° for 40-45 minutes or until peppers are tender. Serve with hot sauce if desired.
https://stlcooks.com/easy-andouille-stuffed-peppers/
Recipe and Photo: Foodista / CC BY