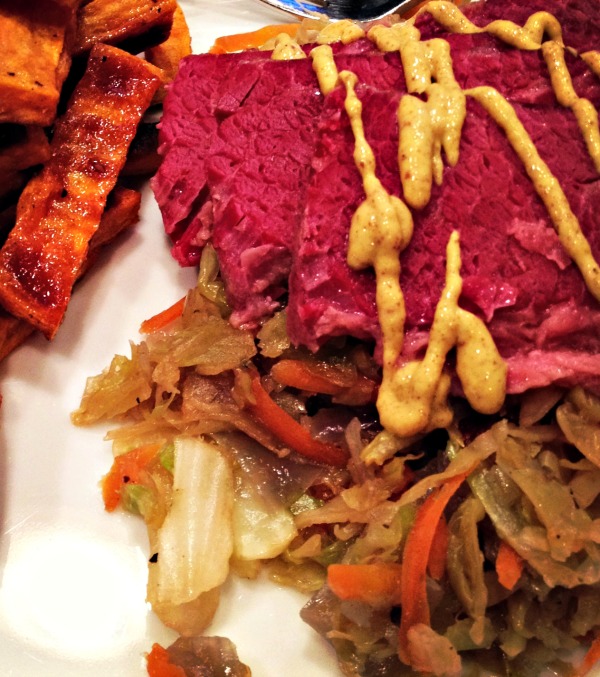 Ingredients
For the Corned Beef:

6 lb piece corned beef brisket
water
1 bay leaf
1 Tbsp whole peppercorns

For the Warm Cabbage Slaw:

1 bag coleslaw mix (shredded cabbage and carrots)
1/2 small red onion, diced
ladle full of the corned beef cooking water
Instructions
Oven at 300 degrees.
We'll start with the corned beef because it cooks low and slow. Into a large oven proof pot (lid must be oven proof as well), place the piece of meat in, the bay leaf, peppercorns and enough water to cover the meat with a couple inches worth of water overtop.
Pop the pot on the stovetop with the lid on and bring to a boil. As soon as it comes to a boil place the pot, lid still on, into the oven. Cook for 3 hours. Half way through the cooking time I do go ahead and flip the meat over because it will float up as it cooks, leaving part of the meat slightly above water.
Once the 3 hours is up, I keep the pot covered on the side while I prepare the slaw.
The key to nice slices is to be sure you cut against the grain…. basically, see those lines on the meat, cut the meat in the direction opposite the lines. I mean, c'mon, how gorgeous is that color and oh so tender & juicy!!!
For the warm cabbage slaw… Into a large pan, over medium heat, add a couple drizzles of olive oil, the onions and coleslaw…x. Toss to combine and allow to cook a few minutes, until the veggies are slightly softened and have a bit of color. Add in a ladle full of the cooking water form the corned beed (watch you don't get the peppercorns) and simmer for a few minutes. The liquid will be absorbed. Season with a little pepper.
https://stlcooks.com/corned-beef-and-cabbage-2/
Recipe and Photo: Foodista / CC BY