Jump to recipe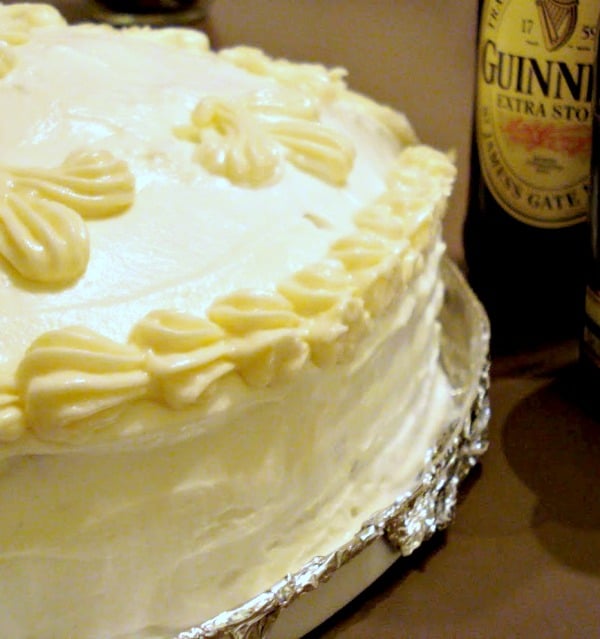 Ingredients
For the cake
1 cup Guinness Stout
1 stick unsalted butter
3/4 cup cocoa powder
2 eggs
3/4 cup sour cream
1 tsp vanilla
2 cups sugar
2 cups all purpose flour
2 1/2 tsp baking soda
1/2 tsp salt
For the Bailey's Buttercream Icing
1 cup crisco
1/2 cup butter
5-6 cups powdered sugar*
1 tsp vanilla extract
1/4 cup Bailey's Irish Cream (I recommend adding to your taste)
For the Homemade Whipped Cream
1 small container of Heavy Whipping Cream
4 TBS powdered sugar
1 tsp vanilla extract
2 tsp sugar
Instructions
For the cake
Preheat oven to 350 F.
For this recipe you're going to have 3 different mixtures that will eventually all be combined.
The first mix consists of the sour cream, vanilla and eggs: cream together and set aside.
Next, on the stovetop simmer butter and Guinness and add cocoa (whisking constantly until combined). Combine chocolate-Guinness mixture and sour cream mixture.
In separate bowl whisk flour, baking soda, salt, and sugar.
Slowly add dry ingredients to the wet mixture.
Pour into Springform pan and bake for 35-40 minutes or until a toothpick comes out clean in the center. Place baked cake on cooling rack. Once cooled, tort the cake by cutting it horizontally in half…making two cakes. (The Bailey's icing goes in between these two layers)
For the Bailey's Buttercream Icing
Cream crisco and butter. Start to slowly add powdered sugar, add vanilla extract and Bailey's.
*It is difficult to give the exact amounts of sugar and cream, because frsoting is all about having the right consistency. That is also why I suggest slowly adding those ingredients. If the icing looks to thin and runny, add more sugar.. if the icing is too stiff feel free to add more cream.. you get the point I hope!
For the Homemade Whipped Cream
Whip cream until soft peaks form. Once cream is starting to stiffen whip in sugars and vanilla.
Feel free to add more or less sugar depending on how sweet you want your whipping cream!
Recipe and Photo: Sweet E Bakes