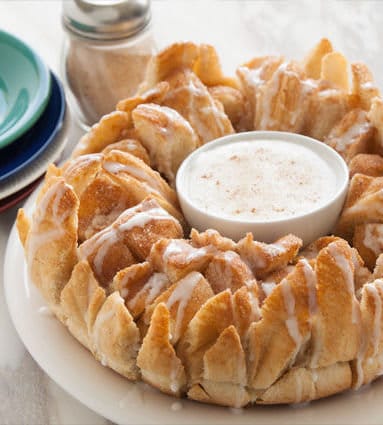 Ingredients
1 loaf Rhodes™ bread, thawed to room temperature
1/2 cup butter softened
1/4 cup powdered sugar
1/4 cup honey
1 teaspoon vanilla
1/2 cup sugar
1 teaspoon cinnamon
Glaze
1 cup powdered sugar
2 tablespoons milk
Instructions
Roll loaf into a 20-22-inch rope.
Form into a circle and place in the bottom of a sprayed bundt pan.
Cover with plastic wrap and let rise until double in size.
Remove wrap and bake at 350°F 20-25 minutes or until lightly browned.
Cool and then make cuts lengthwise and widthwise, about 1-inch apart, without cutting through the bottom crust.
Combine softened butter and powdered sugar well.
Stir in honey and vanilla.
Spread the honey butter between all the cuts.
Combine sugar and cinnamon and generously sprinkle in between all cuts.
Wrap loaf in foil and place on baking sheet. Warm in 350°F oven 15-20 minutes.
Combine powdered sugar and milk to make glaze and drizzle on warmed bread or serve as dipping sauce.
https://stlcooks.com/cinnamon-party-loaf/
Recipe and Photo: Rhodes Bread on Instructables.com / CC BY-NC-SA