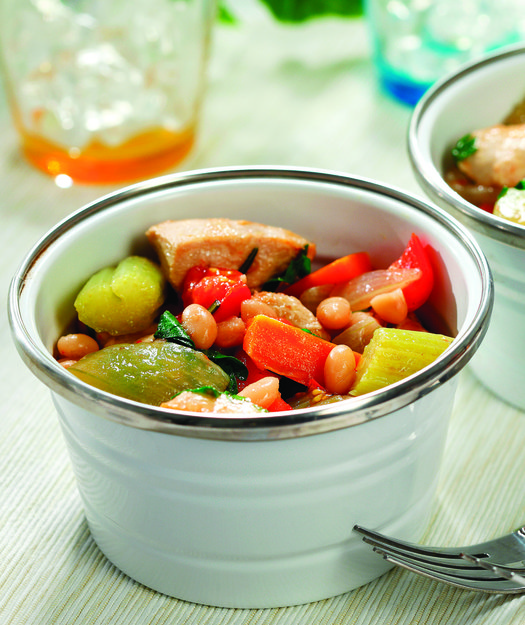 Chunky Chicken Vegetable and Rosemary Stew
Ingredients
2 tablespoons canola oil, divided
12 ounces boneless chicken breasts, cut into 1-inch pieces
1 medium onion, cut in 8 wedges
3 medium carrots, quartered lengthwise and cut into thirds
1 medium celery stalk, cut into 1-inch pieces
2 cups water
2 bay leaves
1/4 teaspoon crushed red pepper flakes
1 can (15 ounces) reduced-sodium navy beans, rinsed and drained
1 cup grape tomatoes, quartered
1/2 cup chopped fresh Italian parsley
1 tablespoon chopped fresh rosemary
3/4 teaspoon salt
Instructions
In Dutch oven, heat 1 tablespoon canola oil over medium-high heat. Add chicken and cook about 3 minutes per side or until it begins to brown (center will still be slightly pink). Remove from oven and set aside.
Add remaining canola oil, onion, carrot and celery. Sauté, stirring frequently, for 5 minutes or until vegetables just begin to lightly brown on edges. Add water, bay leaves and pepper flakes. Bring to boil over high heat. Reduce heat to medium low and simmer covered for 20 minutes or until vegetables are tender.
Stir in chicken, beans, tomatoes, Italian parsley, rosemary and salt. Cover and cook 5 minutes or until tomatoes are tender and chicken is cooked. Serve immediately or let stew stand 30 minutes to develop flavors and texture.
https://stlcooks.com/chunky-chicken-vegetable-and-rosemary-stew/
Source: CanolaInfo