Jump to recipe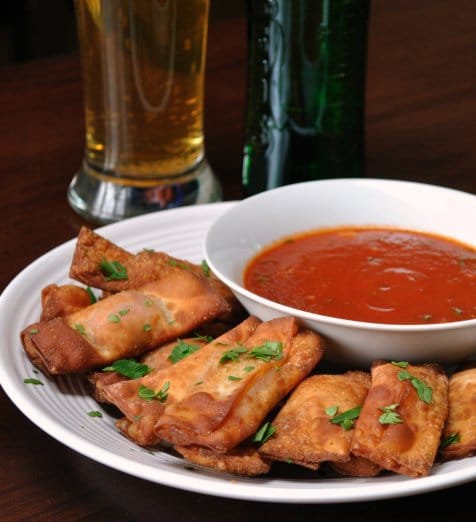 Crisp, homemade pizza rolls stuffed with pepperoni, gooey cheese, and fresh basil. Warm marinara makes a quick, tasty accompaniment.
Homemade Pizza Rolls and 5-Minute Marinara

Crisp, homemade pizza rolls stuffed with pepperoni, gooey cheese, and fresh basil. Warm marinara makes a quick, tasty accompaniment.

Ingredients
Pizza Rolls
2 tablespoons extra-virgin olive oil
1 6oz can tomato paste
4 garlic cloves, minced
½ teaspoon dried oregano
¼ teaspoon red pepper flakes
1 14-oz can crushed tomatoes
2 cups shredded mozzarella cheese
1/4 cup fresh basil, chopped
3oz pepperoni, chopped fine
Salt and pepper to taste
2 12-oz packs of wonton wraps
Peanut or vegetable oil for frying
5-Minute Marinara
1 8oz can of tomato sauce
2 cloves garlic, minced
2 tbsp fresh basil
1 tsp sugar
Pinch of red pepper flakes
Kosher salt and fresh ground pepper to taste
Instructions
Heat the olive oil in a 12? nonstick skillet over medium heat. Add the tomato paste and cook, stirring constantly, for 2 or 3 minutes, until rust colored. Stir in the garlic, oregano, and pepper flakes, and cook until fragrant, about 30 seconds.
Stir in the crushed tomatoes, bring to a simmer and cook over medium heat, stirring occasionally, until thickened and reduced – about 10 minutes. Scrape the tomato mixture into a large bowl and allow to cool completely – or refrigerate until cold.
Stir the pepperoni, cheese, and basil into the tomato mixture, and season with salt and pepper to taste.
Line two large baking sheets with wax paper and set aside. Line your workspace with wax paper, and have a small bowl of water available. Arrange about a dozen wonton wrappers on the wax paper, and place a scant teaspoon of filling in the middle of each wrapper. Lightly brush 3 sides of a wonton wrapper with water to moisten. Fold the dry side of the wrapper over the filling, and keep rolling until completely closed and the roll is seam side down. Press around the filling, squeezing out any air, and press the edges firmly to seal. You can crimp or roll the excess edging if you like.
Repeat with the rest of the wontons, and transfer the completed rolls to the prepared baking sheets. Keep working in batches until all the filling is gone (there will be wonton wrappers left over).
Transfer the baking sheets of finished rolls to the freezer, and freeze until firm, at least an hour. Once the rolls are frozen, transfer them to a large resealable bag, and store in the freezer (can be kept for up to 1 month).
To serve: In a 3-quart saucepan, heat 2? of vegetable oil over medium-high heat until it's 375 degrees. Fry the pizza rolls, 12 at a time, stirring and flipping occasionally, until golden brown, about 1 or 2 minutes. Transfer the finished rolls to a wire rack, and allow to cool slightly before serving.
Serve with the 5-minute marinara (or your favorite jarred sauce).
For the marinara:
In a small saucepan, heat the olive oil over medium heat. Add the pepper flakes, and let them sizzle in the oil for about 30 seconds. Add the garlic, and saute for another 30 seconds. Add the tomato sauce, sugar, and basil, and bring to a low simmer. Let the sauce simmer for another couple of minutes and serve hot with the pizza rolls.
Recipe and Photo: Feeding Darragh / CC BY-SA