Jump to recipe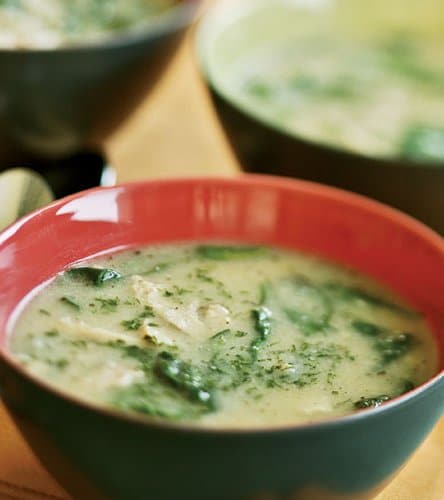 Chicken Soup with Fennel and Spinach

Ingredients
1 tablespoon olive oil
2 fennel bulbs, coarsely chopped (4 cups), fronds and shoots reserved for garnish
½ teaspoon salt
¼ teaspoon freshly ground pepper
1 small shallot, chopped
4 (14½ ounce) cans reduced-sodium chicken broth
2 chicken legs (thigh and drumstick), skin removed
1 (10–ounce) bag of fresh spinach
2 teaspoons freshly grated lemon zest
Instructions
In a large pot, heat oil over medium heat until it shimmers.
Add fennel; cook 10 minutes, just until it begins to brown, stirring occasionally.
Add salt, pepper and shallot; cook 5 minutes, until shallot is softened and fennel is lightly browned, stirring occasionally.
Add chicken broth and chicken legs; bring to a boil over medium-high heat.
Reduce heat to low, cover and simmer until chicken is cooked through, 20 minutes.
Remove from heat, and transfer chicken to a colander.
Run chicken under cold water just until cool enough to handle.
Remove chicken meat from bones (discard bones), shred meat and add to soup.
Stir in spinach and lemon zest.
Spoon into serving bowls, and garnish with reserved fennel fronds and shoots, if desired.
Recipe and Photo: recipes.wikia.com / CC BY-SA