Jump to recipe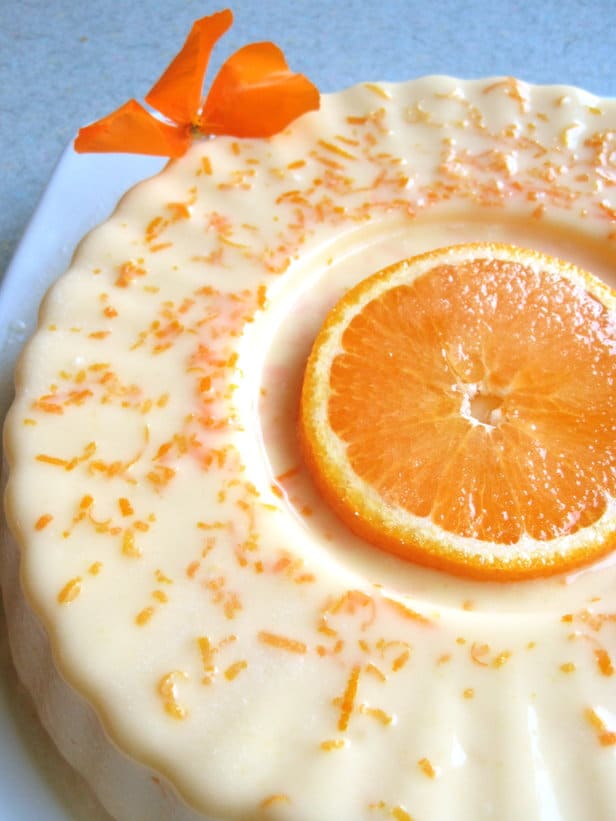 Orange Bavarian Cream

Ingredients
1 1/4 cups (300 ml) whipped cream
4 ounces (100 g) fresh ricotta — the kind from the deli counter
4 yolks
1 1/4 cups (240 g) sugar
1 cup (250 ml) milk
3 sheets gelatin (15 grams, 3/5 of an ounce)
1 tablespoon potato or corn starch
A half a vanilla bean, or 1/2 teaspoon vanilla extract
5 mandarin oranges (if any have leaves attached, set them aside)
A shot of orange liqueur
Instructions
Grate the orange part of the zest of two of the oranges. Peel one of the ones whose skin you have grated take the sections, and peel off the membranes. Peel the remaining three oranges and julienne their skins. Then squeeze the three, strain the juice, and set it aside.
Heat the milk with the vanilla and the grated orange zest and let it cool. Set the gelatin to soak in cold water. Beat the yolks with the starch and 3/4 cup sugar until the mixture is pale white, then add the milk in a thin stream, then stir in the orange liqueur. Heat the mixture very gently (a double boiler would be good here), stirring all the while, until it thickens. Do not let it boil. Once it has thickened, squeeze the excess moisture out of the gelatin, remove the pot from the heat, and stir in the gelatin, stirring until it is well dissolved. Let the cream cool to lukewarm.
Put the ricotta through a strainer, then fold it into the cream, together with the orange slices and the whipped cream. Pour the mixture into a ribbed mold and chill it well.
Blanch the strips of orange peel and drain them Caramelize the remaining sugar, add the julienned blanched strips of orange peel, stir in the reserved juice, and add a touch of orange liqueur. Come serving time dip the mold into hot water for a few seconds, then invert it onto a plate and remove it. Decorate the bavarese as you see fit, for example with julienned strips of peel, orange leaves or orange segments, pour the sauce over it (heated or not as you prefer) and serve.
Photo: The Modern Gelatina / CC BY