Jump to recipe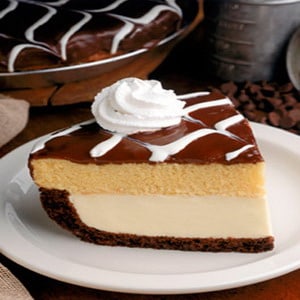 Boston Cream Pie

Ingredients
Cake:
80 grams butter, softened
200 grams all-purpose flour, sifted
3 1/2 teaspoons baking powder
1/2 teaspoon salt
200 grams granulated sugar
200ml and 2 tablespoons milk
1 teaspoon vanilla extract
2 large eggs
Cream Filling:
50 grams sugar
3 tablespoons cornstarch
1/4 teaspoon salt
300ml milk
3 egg yolks, beaten
1 teaspoon vanilla extract
Chocolate Glaze:
1 1/2 cups whipping cream
6oz semi-sweet chocolate chips
2 tablespoons unsalted butter, cut into chunks
Instructions
Preheat the oven to 375°F.
In a large bowl, mix the melted butter with the flour, baking powder, salt, and sugar gradually.
After well-blended, add in 1 cup milk and vanilla extract.
Stir until the dry ingredients are dampened.
Combine eggs and remaining milk into the mixture.
Pour into a layer cake pan.
Place into preheated oven and bake it for 20 minutes.
Take cake out from oven and let it cool completely.
For Cream Filling, combine sugar, cornstarch and salt in a bowl.
Stir it with 1 cup milk until smooth, and then, adding remaining milk.
Cook it on low heat, stir until smooth and thickened; stir egg yolk with the mixture.
Cook it for another 2 minutes and let it cool completely before adding vanilla.
For Chocolate Glaze, cook the whipping cream until near boiling.
Stir the chocolate with hot cream.
Put the cake with cream filling and topping with chocolate glaze.
Slice to serve.
Recipe and Photo: DessertRecipes2u