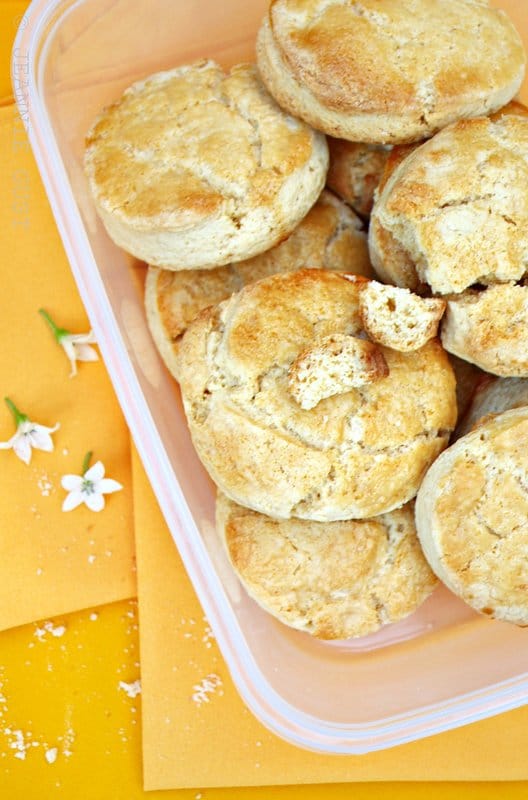 Buttermilk and Honey Biscuits
Ingredients
4 cups Bisquick mix (yes, the pre-mixed pancake/waffle boxed mix)
2 teaspoons baking powder
3/4 cup cold unsalted butter, cut into small cubes
1/3 cup buttermilk
1 medium-size whole egg
1 Tablespoon honey
extra Bisquick mix or plain all-purpose flour (for dusting)
2 Tablespoons milk + 1 Tablespoon honey (mix to brush the top of the biscuits before baking)
Instructions
Pre-heat oven at 375'F
Combine bisquick mix and baking powder in a mixing bowl, add cold cubed butter.
Work the butter into the flour mixture using a pastry cutter or
by rubbing your fingers against the flour and butter until mixture
resembles coarse medium crumbs.
Mix buttermilk, egg and honey and beat with a fork until well combined.
Gradually add the buttermilk mixture into the flour mixture in
the center of the mixing bowl, use a fork to gently incorporate the wet and dry ingredients until mixture gathers into a soft (but not sticky and wet) dough.
If mixture is sticky, add 1-2 Tablespoons more of Bisquick or plain flour… just feel the dough 😀
Turn out the dough onto a floured surface, flatten the dough with the palm of your hands (do not knead, overworking/kneading the dough will make the biscuits tough)
into a 1-inch disk.
Using a 2-inch diameter round biscuit cutter, cut the dough into rounds.
Place cut dough (2 inches apart) onto a parchment lined cookie sheet.
Combine the milk and honey. Using a pastry brush, paint the biscuit tops with the mixture.
Bake biscuits for 15-18 minutes, or until tops are light golden brown.
Serve fresh and hot out of the oven as is or spread with jam,
whipped or clotted cream or a drizzle of honey.
https://stlcooks.com/buttermilk-and-honey-biscuits/
Recipe and Photo: Goddess of Scrumptiousness / CC BY-ND