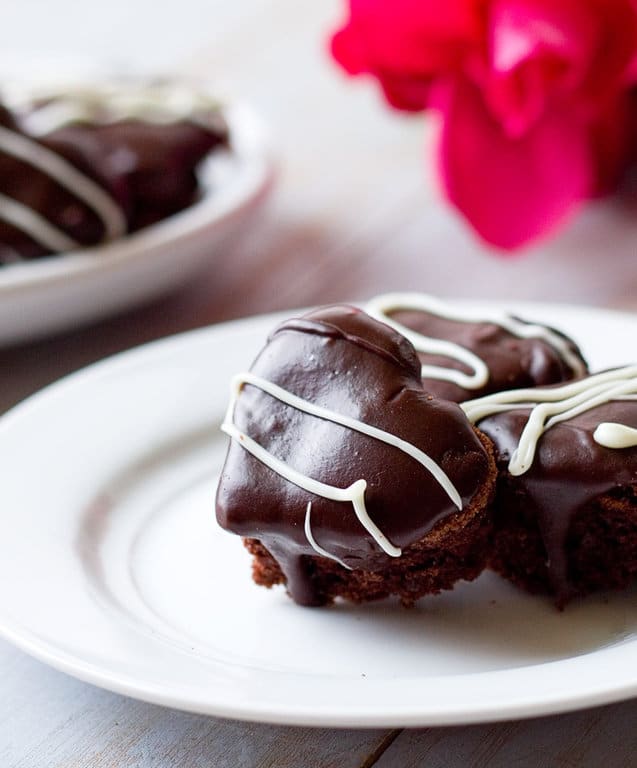 Valentines Day Cakelettes
Ingredients
1 box Devils Food cake mix (all ingredients called for on the box)

Chocolate Raspberry Ganache

1/3 cup heavy cream
1 cup semi-sweet chocolate morsels
2 tbs unsalted butter
1/4 cup seedless raspberry preserves

White Chocolate Drizzle

1 cup white chocolate morsels
1 tsp vegetable shortening (and you may need more shortening, but add it in 1/4 tsp amts)
Instructions
Preheat oven to 350 degrees (or 325 degrees if using a dark or coated pan).
Line the bottom of a 15 x 10 x 1-inch jelly roll pan with baker's parchment. Mix cake according to box directions. Spread in prepared pan.
Bake cake 20-25 minutes, turning pan halfway through the baking time. Cake is done when center springs back or toothpick inserted in center comes out clean.
Cool on rack 10 minutes. Release cake on rack and carefully remove parchment. DO NOT INVERT. The bottom will be the top! Cool completely.
When cool, use heart-shaped cookie cutter (about 2-inches at widest part) and cut out heart-shaped portions of cake. Place portions on a rack set in a large cookie sheet or jelly roll pan.
Prepare ganache by heating cream to a simmer. Remove from heat and add remaining ganache ingredients. Let sit for 2 minutes. With wire whisk, beat ganache until smooth.
Using a small ladle or very large spoon, coat each cakelette with ganache. Ganache that has dripped into the pan beneath may be scraped up and reheated and used for additional glazing. Let ganache set. This will take about 4 hrs.
Melt white chocolate and shortening. Stir until completely smooth. Using a plastic sandwich bag or the squeeze bottle mentioned above, pipe thin lines of white chocolate diagonally across hearts. Let set.
https://stlcooks.com/valentines-day-cakelettes/
Recipe and Photo: Foodista / CC BY