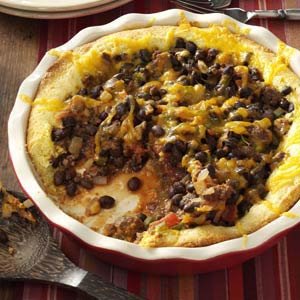 Ingredients
¼ cup green pepper, chopped
¼ cup onion, chopped
1 teaspoon vegetable oil
1 cup tomato sauce
1½ tablespoons chili powder
1 teaspoon cumin
1? cups water
2 cups canned beans, drained
1 (16 ounce) can corn, drained
1 mild chili pepper, diced

Cornmeal Topping

1 cup flour
1 cup cornmeal
1 tablespoon baking powder
2 tablespoons egg mix + ¼ cup water (or 1 egg)
1 teaspoon salt
? cup vegetable oil
1 tablespoon sugar
Instructions
Preheat oven to 350°F.
Cook green pepper and onion in oil until tender.
Stir in rest of ingredients up through chili pepper and cook over low heat for 5 minutes.
Pour into 9 x 13 inch baking pan.
Make cornmeal topping and pour over the mixture.
Bake at 350°F for 30 minutes.
Notes
To lower the sodium content: use low-sodium canned beans and corn; make half of the cornmeal topping and spoon onto pie (similar to chicken and dumplings).
https://stlcooks.com/bean-tamale-pie/
Recipe and Photo: recipes.wikia.com / CC BY-SA