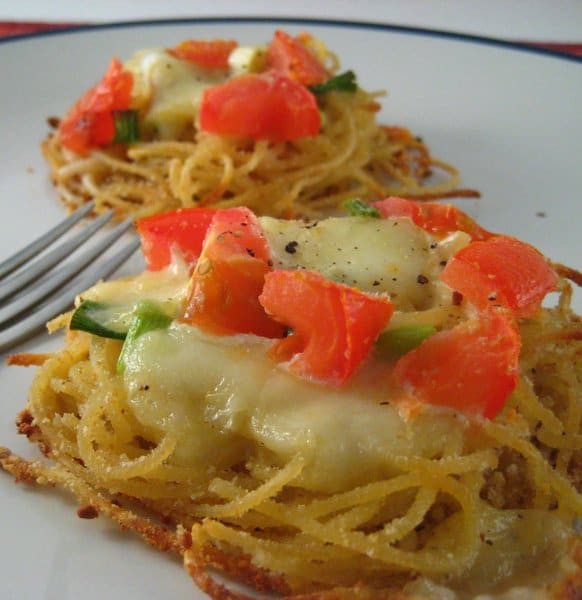 Ingredients
150g spaghetti
3 tbsp. grated Parmesan cheese
2 tbsp. unflavoured bread crumbs
2 eggs
3 tbsp. heavy cream
1/2 tomato, diced
8-10 mini bocconcini balls
chives or sliced green onion
fresh or dried basil, oregano, or Italian herb mix
salt and pepper
1 1/2 cups of your favourite tomato pasta sauce, store-bought or homemade (or more)
Instructions
Boil water in a large pot and cook pasta according to the directions on the box. Drain pasta and rinse with cool water and let dry in the colander for about 5 minutes.
Return pasta to pot and toss with Parmesan cheese and bread crumbs.
Line a baking sheet with parchment paper and scoop spoonfuls of pasta into small piles. Using a fork, twist pasta to form a nest.
Repeat until you've made 5 nests.
Whisk eggs, cream, herbs, salt and pepper until blended. Add bocconcini and chives, and stir.
Spoon mixture into the centre of each nest, using up all of the mixture. Garnish nests with diced tomato.
Bake in a preheated oven at 400F for 15-18 minutes.
Serve immediately with a side of pasta sauce, garlic bread and salad.
You can also make spaghetti nests bite-sized and serve them as a warm appetizer.
https://stlcooks.com/spaghetti-nests/
Recipe and Photo: Little Toast / CC BY