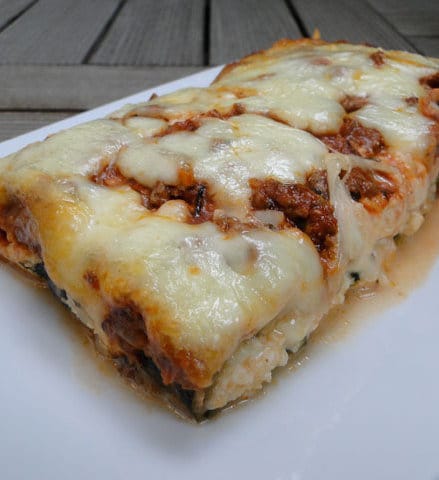 Ingredients
1 lb (450g) ground beef
3 lb (1.3 kg) large zucchinis
1 lb (450g) ricotta cheese
1 egg
1 cup grated parmesan cheese
1 tsp salt
2 tbsp chopped parsley
1 tsp dried oregano
3 cloves garlic
1/2 onion
1 tbsp olive oil
freshly ground black pepper
1 lb (450g) fresh mozzarella shredded
28 oz (800g) crushed tomatoes
Instructions
Using a mandolin (or a knife), thinly slice the zucchini lengthwise into long strips, about 1/8-inch thick. Grill the zucchinis.
In a sauce pan, saute onion and garlic in olive oil around 2 mn. Add the meat and brown, add tomatoes, parsley, oregano, salt and pepper. Simmer on low heat for around 30 mn. Do not add extra water, the sauce should be thick.
Prepare the filling by mixing the ricotta, egg, parmesan, salt, and pepper in a bowl.
Preheat oven to 350?F (180ºC).
In a baking dish spread some sauce on the bottom and layer the zucchini to cover. Then place some of the ricotta cheese mixture, then top with the mozzarella cheese and repeat the process until all your ingredients are used up. Top with sauce and mozzarella and cover with foil.
Bake 45 minutes covered, then uncovered 15 minutes. Let stand about 5 – 10 minutes before serving.
https://stlcooks.com/zucchini-lasagna/
Recipe and Photo: Chico's Kitchen / CC BY