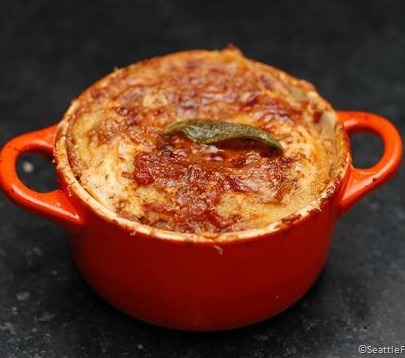 Ingredients
1 pound fresh pasta dough (or 1 package dried no-boil lasagna noodle
1 pound Sweet Italian Sausage
1 cup fresh ricotta cheese
2 cups tomato sauce (see recipe below, or use store-bought)
4 tablespoons freshly grated Parmigiano-Reggiano
4 fried sage leaves, for garnish (optional)

Tomato sauce:

1 tablespoon extra virgin olive oil
1/2 white onion, diced
1 medium shallot, finely diced
3 cloves garlic, finely sliced
4 sage leaves, finely chopped
3 cups Chianti
12 ounces can whole peeled tomatoes
3 tablespoons balsamic vinegar
sea salt and pepper, to taste
Instructions
Preheat your oven to 350°F.
If you're making homemade lasagna noodles, follow your favorite pasta recipe (the recipe on a bag of semolina flour works just fine). Roll the dough out to the #5 setting (about halfway) on your pasta roller, which is thin enough that you can just see the color of your hand through the dough. Cut the dough to fit your baking dish. 1 lb. of dough should be more than enough – you may have extra dough left over.
Heat a large skillet over high heat. Remove the sausage casings by squeezing the sausage from one end and add the sausage to the skillet. Break the sausage up into small pieces and cook until lightly browned and no pink is visible. Set aside.
Assemble your lasagna by lightly greasing your baking dish with olive oil or butter. Place a layer of noodles in the bottom of the dish until it is completely covered. Spoon on about 1/3 of the ricotta cheese, 1/3 of the sausage, and 1/3 of the tomato sauce. Repeat 2 more times. Place a final layer of noodles over the top and cover with grated parmesan.
Cover with a lid or foil and bake for 30 minutes if using fresh pasta, or as long as called for if using store-bought lasagna noodles. Uncover and continue baking 5 minutes or until the top is golden brown.
Let cool 5-10 minutes before serving, and top with fried sage leaves.

Homemade Tomato Sauce:

Heat oil in a medium saucepan over moderate heat. Add onions and cook until softened and transparent, about 7 minutes. Add garlic, shallot and sage. Continue cooking another 10 minutes, keeping the heat low enough to barely brown the vegetables.
Add the wine, scraping any browned bits off the bottom of the pan. Increase heat to high and boil until reduced to a thick syrup, about 10 minutes.
Add the tomatoes and their juice, breaking up tomatoes into small pieces with a spoon. Bring to a boil, then reduce to a simmer.
Simmer 20 minutes, then add balsamic vinegar. Adjust with salt and pepper, to taste.
https://stlcooks.com/sweet-sausage-lasagna/
Recipe and Photo: Foodista / CC BY